Sumo: Hakuho leads march of new Mongolian warriors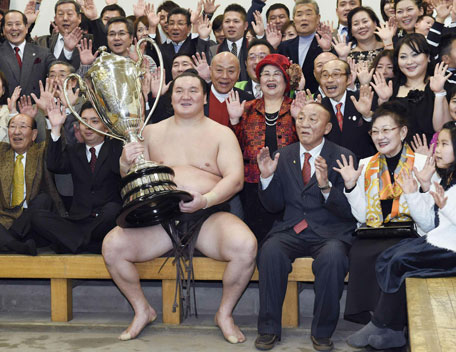 Hakuho returned to his corner for a third time to grab another fistful of salt, his face a picture of concentration, his eyes narrowed and focused as a packed Ryougoku Sumo Hall bristled with anticipation.

He turned, tossed the granules high into the air and made his way back towards the centre of the dohyo (ring), slapping his thighs and pumping himself up as he completed a centuries-old pre-bout ritual.

Opposite the Mongolian-born yokozuna (grand champion) stood, somewhat fittingly, Japan's top-ranked wrestler Kisenosato, the last barrier between Hakuho and a history-making triumph.

Seconds later, Hakuho fended off his opponent's initial barrage of slaps and pushes before planting his feet, seizing the momentum and forcefully marching Kisenosato out of the ring for his 13th straight victory in the New Year Tournament.

Haukho allowed himself a smile and nodded knowingly. His 33rd Emperor's Cup was won with two days to spare, sumo's chronicles had been rewritten and his quest to surpass legend Taiho's all-time tournament victories record was complete.

The 29-year-old's landmark triumph on Friday evening was also the starkest reminder yet that the most Japanese of sports had become the domain of Mongolian wrestlers both in the ring and now the history books.

Sumo had been practiced by only Japanese competitors from its first organised basho (tournament) in the 17th century until a little more than a hundred years ago, when foreign-born wrestlers began to participate.

The first wave of overseas powers had a distinctly Polynesian flavour with Takamiyama laying down a marker for Hawaiian-born wrestlers in the late 1960s, before Konishiki rose to prominence two decades later and Akebono became the first foreign yokozuna in 1993.

Mongolian Influx

Samoan Musashimaru was the second non-native grand champion when he was promoted to the top rank in 1999 and his 12 basho victories marked the onset of foreign domination that Mongolia took over with the controversial Asashoryu leading the way.

Currently, all three yokozuna are Mongolian -- Hakuho, Harumafuji and Kakuryu -- with the last Japanese grand champion retiring in 2003 and final homegrown tournament winner coming nine years ago when Tochiazuma won his third and final basho.

While Japanese fans bemoan a lack of local competitors at the highest level, Edo-Tokyo Museum director general Makoto Takeuchi, who teaches the history of the sport to new sumo recruits, feels too much is being read into the situation.

"As a Japanese, it is regrettable that a record held by a Japanese wrestler is broken by a foreigner. This is true," Takeuchi told Reuters

"I do not actually care about the nationality of wrestlers, as long as they make efforts to understand and learn what sumo means."

The essence of sumo to most Japanese is hinkaku (dignity), something a yokozuna must possess to earn the respect of fans, the media and his peers to help plant a legacy of greatness both during and after a wrestler's career.

"Sumo is not just a sport... it is not just about who wins and who loses. In addition to the results, wrestlers are required to have hinkaku and the beauty of every movement is a reflection of their dignity that we can appreciate," Takeuchi added.

"Sumo has this extra value that other sports do not."

Lacking dignity

A perceived lack of hinkaku blighted Asashoryu's reign as a yokozuna, with the Mongolian having several scrapes with sumo authorities during a career that saw him win an impressive 25 tournaments but was cut short by a retirement in 2010 he felt was forced upon him following an alleged assault charge.

Hakuho, born Monkhbatyn Davaajargal in Ulan Bator, has avoided such controversies and risen through the ranks on the back of his great strength, agility and flexibility.

Many have compared his rural upbringing in Mongolia to that of the great Japanese wrestlers of the past, able to develop his core power by horse riding and carrying heavy objects as a youth.

His determination and extra training set him apart from his stable mates and rivals, but like Asashoryu, he struggled to win over the Japanese public with a tendency to over-celebrate victories and displays of disregard towards defeated opponents.

It was perhaps a meeting with Taiho in 2008, who became a father figure to the young Mongolian, and his marriage and subsequent parenthood that have helped calm down the wrestler as he marched towards greatness.

"Even though he has more wins than Taiho, it does not mean he has surpassed him as a person," Takeuchi added.

"Hakuho must be given credit, though, in that he is really trying to become as similar as possible to those historical champions.

"Not only does he want to wrestle like them, he wants to become a man like them as well."
Follow Emirates 24|7 on Google News.