'Superman' and Magic too much for Lakers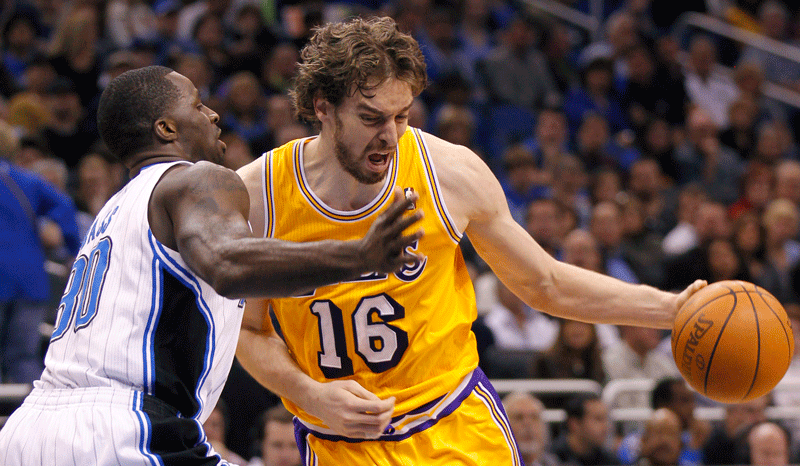 The Orlando Magic humbled the defending NBA champion Los Angeles Lakers with an 89-75 triumph on Sunday for their first victory against a team with a winning record in over a month.
Dwight Howard dominated with 31 points and 13 rebounds for the Magic (35-21), who held Kobe Bryant and the Lakers to a season-low 75 points.
"The way we played tonight is the way we have to play if we want to be considered a great team," Howard, the NBA's two-time defending Defensive Player of the Year, told reporters.
"If we continue to do that, there's no doubt in my mind we have what it takes to win a championship."
Since overhauling the team with a multi-player trade in December, Orlando has not been able to re-establish the form that led to deep playoff runs in the past two seasons.
But Sunday's win, Orlando's first triumph over a team with a winning record since beating the Dallas Mavericks on January 8, appeared to be a step in the right direction.
Los Angeles (38-17) entered the game on a roll, having won the first four contests of a seven-game road trip, but their offense sputtered.
Despite 17 points each from Bryant and Andrew Bynum, the visitors shot a mere 39 percent and made only two of their 16 three-point attempts.
"We had good looks. I can only think of one (three-pointer) that was rushed, or was a bad shot," said Lakers coach Phil Jackson. "We could have had a better flow for the game and that's really the thing that we're unhappy about."
After controlling the game most of the way, the Magic led by six points early in the fourth before a 10-2 run pushed their advantage to 81-67 with about six minutes remaining.
The lead was stretched to 18 to end the Lakers' chances.
Lamar Odom added 15 points and eight rebounds for Los Angeles while the Magic got 12 points from Jason Richardson.
Howard, who had 12 points in the fourth where he punished the Lakers inside with an assortment of post moves, left the game for good in the final minutes when with a cut under his right eye after taking an elbow from Odom while going for a rebound.
Follow Emirates 24|7 on Google News.