Thomians win Gulf 'Battle of the Blues'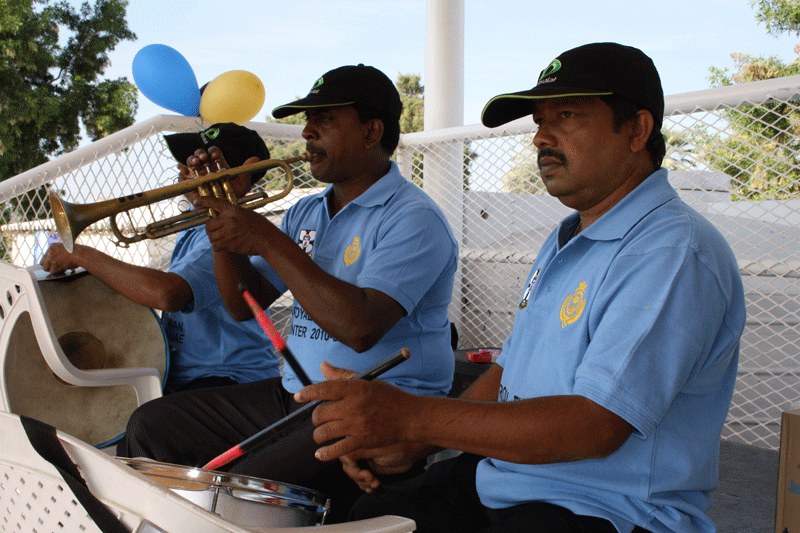 The old boys of S. Thomas' won the Gulf 'Battle of the Blues' cricket encounter against their counterparts from Royal at Sharjah Wanderers Club recently.
The 10th encounter between UAE expatriates of two leading schools from Sri Lanka attracted a fair crowd who were entertained by Sri Lanka's premier `Papare band'; Mendis and his clan and ably supported by DJ leon.
The Thomians turned the tables on Royal this year with an emphatic 49-run win to regain the trophy after three years.
In the process they hit the series highest score of 173 all out in 15 overs with old Thomian Aruna Bandaranayke smashing a whirlwind 71 with nine sixes and three fours to win man of the match award (Sahan Peiris memorial cup).
Roshmilan 17, Kosala Sirisoma 16 and Lashan Egalahewa 15 also boosted the Thomian totalwhile Thushan, Amal Karunaratne, Manjula Premaratna and Manish Panchavarnam bagged two wickets apiece.
Royal in reply were bowled out for 124 in 13 over with Roshan Chandrasena making a top score of 21 not out.
Rajeivan (3-8), Lashan Egalahewa (3-14) and Hamza (2-13) caused the damage.
Earlier, Royal won both the Veterans (Over 40) and second XI matches comfortably in eight-over games. The Ladies match of the spouses of Old Royalists and the Thomians provided a thrilling finish when Royal ladies fought back to level the scores in the last over to tie the match.
Royalists led by Ishan Perera showed why they are a giant force back in Sri Lankan schools rugby, when they won a hard fought sevens rugby match 10-0.
Follow Emirates 24|7 on Google News.