Top Fuel dragsters set for face-off at Yas Festival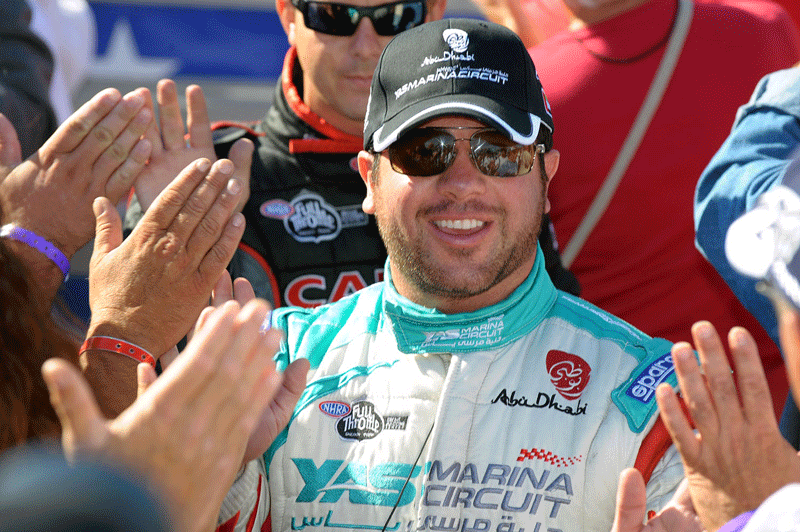 The sound and fury of 8,000-horsepower Top Fuel dragsters will split the air again in the UAE when the FIA world champion Urs Erbacher races resident NHRA star Rod Fuller at the Yas Drag Racing Festival on March 4-5.
Other attractions for the Drag Festival will include demonstration runs by Martin Hill in the world's fastest jet-powered Funny Car and a full programme of drag racing with entries from across the GCC region.
Hot Rod Fuller became the fastest man on four wheels in the UAE at last year's inaugural Drag Racing Festival when he hit a terminal speed of 499.97 km/h in front of a capacity crowd at Yas Marina Circuit. He covered the standing-start 1,000 feet (304 metres) in 3.893 seconds in his 8,000-horsepower dragster, setting another UAE record by just 1/1000th of a second. Expectations are high for cracking the magical 500 km/h barrier at this year's event.
"Fans can expect to see some very exciting Top Fuel racing," Fuller said. "Urs is the world champion and presents a very serious challenge for me. I've stepped up my training since the beginning of the year in order to be at peak fitness for the Drag Festival. My aim is to beat the world champion and set a new UAE record in the process."
Fuller will also be providing rides for spectators in the Yas three-seat Super Comp dragster. "That's going to be a real first," said Rashed Al Qubaisi, head of the Yas Drag Racing Centre. "Never before has the public been able to watch a Top Fuel driver pull a sub-four-second run and then get strapped into a Super Comp dragster for a similar experience with the same driver."
Al Qubaisi is excited about this year's festival. "Last year's inaugural Drag Racing Festival at Yas was watched by a sell-out crowd, and it was clear that the spectacle of Top Fuel was a huge attraction," he said.
"People were thrilled by the power, the sound and the way the very ground shook. This year, we will have the two Top Fuel cars perform solo runs on Friday and then race head to head on Saturday so that spectators can see more Top Fuel action."
The inaugural two-day Yas Drag Racing Festival 2010 was named as 'Motorsport Event of the Year' by CAR Middle East magazine in December.
Fuller's car will be managed by Bob Vandergriff, one of the leading NHRA team managers, who will be bringing his full US crew to Abu Dhabi for the festival straight from the NHRA drag race at Pomona, California.
Top crew chief Mike Domagala, who looked after one of the Yas Top Fuellers at last year's event, will again be back to lead the Hot Rod pit crew.
The demonstration runs by Martin Hill in his jet-powered Funny Car are also set to be a major draw. "This is the first time a jet car will have performed in the Middle East and it's sure to create just as big a stir as the Top Fuel cars," Al Qubaisi said. "The whole paddock area is open to all spectators, so they can see the teams up close and talk to the drivers. With drag racing, everyone gets a back-stage pass."
Organisers are expecting a full field of entries from GCC drag racers across seven classes: Pro Mod, Outlaw 10.5, 4.80, Super Street 8 (SS8), Pro 6, Pro Bike and Super Street Bike. Tickets are now on sale for the Yas Drag Racing Festival for Dh50, with children 12 and under free of charge. Access to the VIP Golden Circle close to the start is available for Dh150. Tickets are available on the website (www.yasmarinacircuit.com), by phone on 800 YAS (927) or from all branches of Virgin Megastores in the UAE.
Follow Emirates 24|7 on Google News.