UAE cyclist aims for gold at Asian Championship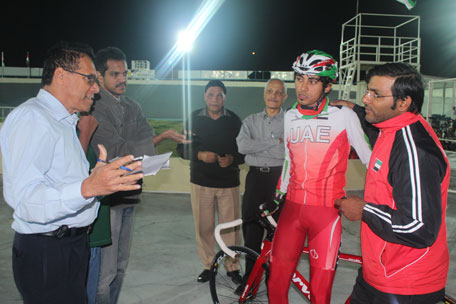 UAE's Elite rider Yousuf Mirza is aiming for a gold medal at the Asian Cycling Championship to be held in Delhi, India in March.

The 24-year-old policeman from Dubai is buoyed by UAE's success at the recently concluded Tour of Gulf in which they won four medals.

Before the Asian challenge, UAE will bid to retain the Gulf title later this month.

Mirza has made rapid progress in his career during the past year particularly after creating history at the World Championships in Melbourne, Australia in April where he was placed 17th.

"He got a great result at this championship competing against professionals. He is the first Arab cyclist to achieve this. In fact, his timing in the event was good enough to get him a bronze medal at the London Olympics. But unluckily for him that event was not included in London," said UAE team manager Abdullah Sweidan.

Among his other achievements is winning a leg of the Tour in Indonesia.

"We are proud of Yousuf. Since the Arab Championship began in 1975, he is only the second rider to win two goal medals at a road race in Sharm El Sheikh in 2011," said Sweidan.

UAE also created history at the Tour of Gulf which contained two stages each in Oman, UAE, Qatar, Bahrain, Saudi Arabia and Kuwait when Yousuf donned the yellow jersey after leading the mountain segment in Jebel Hafeeth at Al Ain.

"We are now preparing for Arab and Asian Championships in India," added Sweidan is the head coach of the UAE Cycling Federation.

Yousuf began his career a decade ago as a cadet cyclist at Al Khaleej Club in Sharjah before moving to Al Ahli Dubai after three years to "improve his level".

"My goal is to win a medal at the Asian Championships in which I came fourth last time. I must do a job for a living but I train like a professional," said Yousuf who is a road specialist.

"But I want to help the team win the track title," said Yousuf during a break in training at the Zayed Velodrome in Sharjah.

He rates riders from Japan, Iran and China to be his toughest opponents.

"Last year I was unlucky in Malayasia race where I came close to get a bronze but failed due to lack of experience. I'm happy with what I have achieved so far," said Yousuf who is ranked 42 in Asia.

"But I have not started all races in Asia. I must participate in more races for this. In Brunei I came 3rd in one stage," he said.
Follow Emirates 24|7 on Google News.