UAE polo fans gear up for Nexus Valentine's Cup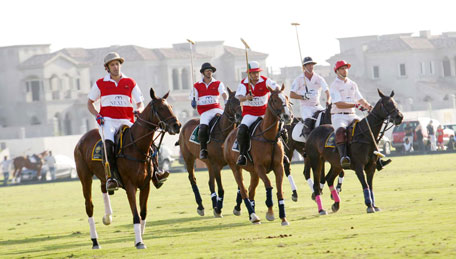 The third annual Nexus Valentine's Polo Cup will be held on on Wednesday and Friday.
Sponsored by Nexus Insurance Brokers and featuring a glittering cast of local and international polo stars, the high-profile event will raise funds for Al Noor Training Centre for Children with Special Needs.
Four hand-picked teams will battle it out at the Dubai Polo and Equestrian Club to make it to the cup final on Friday, with sporting glory and prizes presented by Glam Rock Watches.
The event's finale is expected to attract polo enthusiasts.
"The Nexus Valentine's Polo Cup is a fantastic day out for polo fans and Dubai residents alike," said Mahmoud Nodjoumi, Nexus Group founder and CEO.
"Nexus Insurance Brokers is delighted to be the on-going sponsor for the event because of the link between financial protection and relationships. Valentine's Day is all about love and caring. What better way to show you care than putting sound financial plans in place for whatever your future holds."
As in previous years, the event will generate publicity and funds for the Al Noor Training Centre for Children with Special Needs, a charity proudly supported by Nexus Insurance Brokers that provides individuals with special needs, regardless of background, with professional training and care in order to realise their potential and better integrate into the wider community.
Founded in 1981, the Centre was bolstered in November 2007 with a 300-capacity purpose-built facility generously donated by His Highness Shaikh Mohammad bin Rashid Al Maktoum, Vice-President and Prime Minister of the UAE and Ruler of Dubai, and made possible through the benefaction of Her Royal Highness Princess Haya bint Al Hussein.
On May 19 2011, Sheikh Ahmed bin Dalmook bin Juma Al Maktoum and Sheikh Rashed bin Dalmook bin Juma Al Maktoum accepted Royal patronage of the centre.
"The Dubai Polo and Equestrian Club enjoy pole position as a venue for international polo games and equestrian events," said Jurgen Baumhoff, Chief Operating Officer at Emaar Hospitality Group.
"We are honoured to host the prestigious Nexus Valentine's Polo Cup for the third consecutive year. Each year we make an added effort to provide exceptional services and ensure that our guests have an enjoyable experience."

Follow Emirates 24|7 on Google News.