UAE record history rugby victory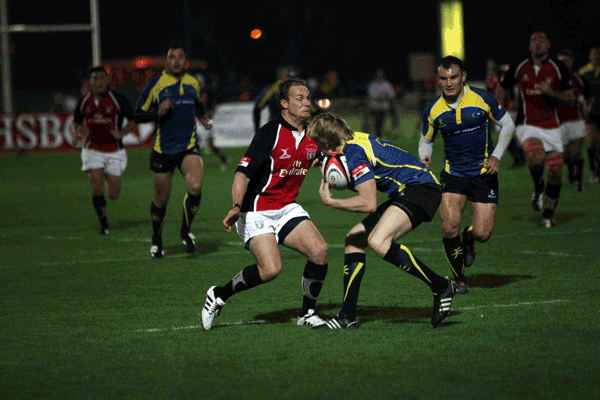 UAE notched its maiden win as an international rugby union after a 24-10 upset of Kazakhstan on Friday night in the HSBC Asian Five Nations match played at Zayed Sports City in Abu Dhabi.
The crucial win moves them one step closer towards their goal of retaining their HSBC A5N Top 5 spot in 2012.
Formed after Arabian Gulf RFU was disbanded, UAE secured a historic win in the first HSBC Asian 5 Nations match ever played in the capital.
Playing to the strengths of their forward pack and relying on the canny boot of Dubai Dragons flyhalf Jonathon Grady, Asia's newest rugby union took the lead in the 16th minute and never relinquished it.
"It feels fantastic," said UAE coach Bruce Birtwistle, "it is great to get our first win in at home under the UAE banner. I'm extremely proud of the effort of the entire team."
UAE captain and lock Mike Cox-Hill and his men were facing a daunting challenge in having Asia's 2010 runners-up Kazakhstan as one of their two home matches - the other being undefeated champions Japan.
Adding to the considerable pressure was the fact that the visitors were stinging from both a home loss to Hong Kong and red cards to two key members of their forward pack last weekend in Almaty.
But a depleted Kazakhstan was further weakened by the absence of key starting prop Vladimir Chernyk who failed to secure his travel visa. That and the fact that Kazakhstan was playing on a short week, contributed to a perfect sandstorm for the visitors as the Kazakhstan pack struggled against the UAE's veteran cadre for most of the match.
"Our forwards blazed the way for us tonight, but I thought we were really strong throughout the park," said Birtwistle.
Flyhalf Grady, in particular, was on song, punishing Kazakhstan with four penalties and a conversion for 14 points on the night. Grady's first tallies came through penalties in the 16th and 19th minutes, which edged the hometown heroes to an early 6-nil lead.
Kazakhstan got on the board with a try through winger Sergey Konev in the 27th minute to pull within one point at 6-5. But four minutes later specialty tight-head prop Munib Haddad, who did not travel to Colombo last week, celebrated the pack's dominance with a try that pulled the UAE back out in front 11-5.
Grady slotted his third penalty of the first half at the 39-minute marker to take the halftime score to 14-5 in favour of the hosts.
Kazakhstan's hopes of a comeback were further quashed when the second half opened much the way the first had, with Grady slotting his fourth penalty of the match in the 45th minute increasing the UAE's lead 17-5.
The score remained that way for most of the second half before a flurry of activity in the waning moments.
UAE scored its second try of the match through reserve Andrew Millar to bring them ahead 24-5 after Grady's successful conversion.
But true to their never-say-die spirit, Kazakhstan quickly struck again with its second try of the match this time through flyhalf Daulet Akymbekov. The tally brought the match to 24-10 after a missed conversion with five minutes remaining, but it was too little too late as Kazakhstan fell to its second straight defeat - seriously jeopardising their 2012 Top 5 chances.
Kazakhstan captain Timur Mashurov rued another missed opportunity saying, "It was a tough loss and a direct result of a very difficult build-up for us this week with our red carded players and then one of our top players not getting his travel visa in time. The loss of another player to heat exhaustion this week meant that it really was the perfect preparation for a loss."
Kazakhstan next travel to Bangkok where they will face the might of Japan, who open their campaign in Hong Kong on Saturday.
"It will be tough next week at this rate against Japan, but Kazakhstan always start slow. We get better the more we are together, and by the third and fourth games we start to show we can really play," said Mashurov, who remains upbeat of staying in the Top 5 next season.
"By our fourth match we begin to play like we know we can and that will be perfect timing to play Sri Lanka at home," added the Kazakhstan No. 8.
That will be disturbing news for Sri Lanka, who will now be ruing the missed opportunity to take a first home win last weekend against the UAE. Sri Lanka host Hong Kong at home next weekend before travelling to Almaty in week 4. To have any hope of staying in the Top 5 next season, Kazakhstan will be relying on Hong Kong to upend the hosts next week in Colombo.
Having accomplished their initial goal of remaining in the Top 5, a buoyant UAE are already setting their sights higher. The UAE have a bye next weekend before hosting Japan in Dubai in Week 4.
"We won't back away from it, we will field our strongest team against Japan," said Birtwistle. "I think we have done enough to stay up with a draw and a win from our opening two matches. Our goal is now an away win in Hong Kong and securing second place in Asia."
From not existing at this time last season, UAE now top the table of the HSBC Asian Five Nations and Asian rugby with eight points from two matches. Hong Kong is next on five points, followed by Sri Lanka on three.
Follow Emirates 24|7 on Google News.