UAE's Al Ketbi creates history at Monte Carlo Rally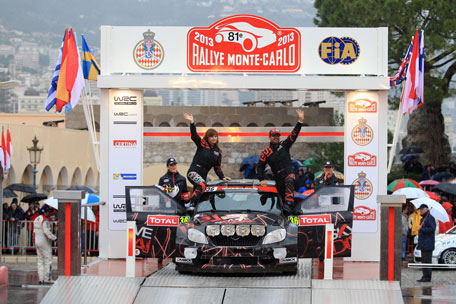 Skydive Dubai Rally Team UAE driver Rashid Al Ketbi and his German co-driver Karina Hepperle started their new season of rallying with a solid fourth-placed finish in the WRC2 category at the Monte Carlo Rally.

The Emirati also made history by becoming the first Arab ever to finish the world famous rally.

Driving a Skoda Fabia S2000, he overcame the treacherous wintry conditions that made the stage surfaces in the Maritime Alps and Ardeche regions of southern France so difficult.

After losing considerable time on the second stage on Wednesday with two damaged wheels and a damaged front suspension arm, Al Ketbi regrouped and set some excellent stage times to finish strongly behind the German duo of WRC2 winner Sepp Wiegand and runner-up Armin Kremer.

Ukrainian driver Yuriy Protosov finished third.

Al Ketbi even set the ninth quickest time of all the cars on the 14th special stage between Moulinet and La Bollene Vesubie.

The famous 23.54km stage was covered with packed snow for about three-quarters of its distance and the remainder of the stage was wet tarmac covered in slushy snow, as crews climbed to the 1,606 metre summit of the famous Col de Turini.

It was a sensational performance by the Fazza Team driver and belied his lack of experience in these weather conditions.

The final two stages late on Saturday night were cancelled on safety grounds because of the sheer number of spectators who were present in the mountains.

The Skydive Dubai Rally Team is running in the 2013 WRC under the patronage of Sheikh Hamdan bin Mohammed bin Rashid Al-Maktoum, Crown Prince of Dubai and Chairman of the Dubai Sports Council.

"I would like to thank Sheikh Hamdan and Skydive Dubai for giving me the opportunity to drive in WRC2 this year," said Al Ketbi. "I also thank my co-driver Karina. She helped me a lot with her experience. I'm so happy to finish this long rally and to become the first Arab driver to finish here."

Teams tackled a total of 16 of the original 18 timed special stages on twisty mountain pass roads in France. Snow and freezing temperatures added to the event's difficulty.


Follow Emirates 24|7 on Google News.