WBA to 'order' Khan-Peterson rematch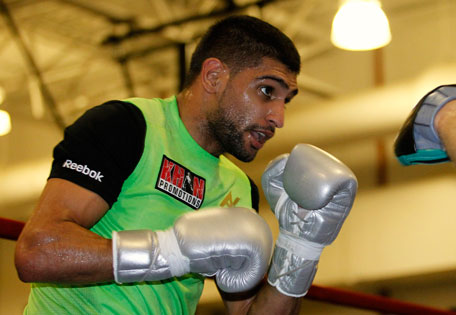 Promoters for British boxing star Amir Khan have claimed that he has been offered a world title rematch with Lamont Peterson after the International Boxing Federation (IBF) revealed to them that the "mystery man" seen ringside at last month's fight was one of their officials.
Khan lost both his WBA and IBF light-welterweight titles after home-town fighter Peterson was awarded a controversial split-decision victory following their bout in Washington on December 10.
The 25-year-old had questioned the performance of referee Joe Cooper and aired grievances over alleged inconsistencies with the judges' scorecards, before turning his attention to the mystery individual at ringside.
Khan has already appealed against the defeat, but on Thursday he took to Twitter to draw attention to the unidentified man's actions during the fight.
There was no immediate identification of the man, but Richard Schaefer, chief executive officer of Golden Boy Promotions now claims the IBF told him that he was one of their officials named Mustafa Ameen, who was given accreditation for the fight despite not being directly involved in it.
"His name is Mustafa Ameen and the IBF have confirmed to us his name, and they have confirmed to us that he's involved in an official capacity with the IBF," Schaefer told Sky Sports News.
"However, he was not in Washington in an official IBF capacity, but the IBF asked the Washington commission to issue him a credential so that he could attend the fight."
Schaefer also claimed that the WBA have offered Khan a rematch with the American, and urged the IBF to follow suit.
"We have been informed today by the WBA that they will order an immediate rematch," he said. "We received a verbal confirmation today and we will get a written confirmation by next Tuesday.
"That means that no fighter can take an interim fight, that the next fight for Peterson would be a rematch.
"We hope that the IBF will follow because that's the least they can do. The ruling of the WBA to order an immediate rematch should put additional pressures on the IBF."
Schaefer said he was also hopeful that the outcome of the fight will be changed to "no contest", allowing Khan to retain his belts, but said: "It's difficult to guess the no-contest ruling. I certainly hope this could happen."
Follow Emirates 24|7 on Google News.