Winter Games open in Sochi amid fireworks, security fears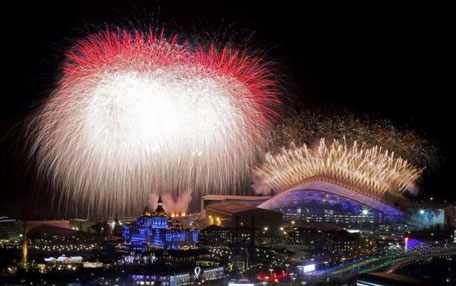 Russia's Winter Olympics officially got underway on the Black Sea coast on Friday with a grandiose opening ceremony that President Vladimir Putin hoped would dispel fears of militant attacks that marred the build-up.

Putin has staked his reputation on hosting a safe and successful Games in the resort town of Sochi, where a colourful, sometimes muddled show before 40,000 spectators at the gleaming Fisht Stadium signalled the start of full sporting competition.

"I declare the 22nd Winter Olympic Games open," said Putin, launching an event he has personally overseen and expects will burnish Russia's, and his own, image on the world stage.

In an embarrassing early technical glitch, one of the five Olympic rings suspended high above the stage failed to unfurl, meaning that the giant structure could not be illuminated by fireworks as planned.

But the show went on, blending cartoon-style inflatable domes, spectacular ballroom dancing amid towering imperial columns, and giant avant-garde shapes hovering above symbols of revolution and upheaval in a sweep through Russian history.

Fireworks filled the sky above the Olympic park surrounding the arena in a rousing finale to a show that drew heavily on Russia's rich heritage of classical music, literature and dance.

As the ceremony unfolded, a security scare aboard a passenger plane flying from Ukraine to Turkey underlined concerns that the Games could be targeted, although the exact circumstances were not immediately clear.

Turkey scrambled an F-16 fighter jet to accompany a plane carrying 110 passengers arriving in Istanbul after a bomb threat was made by a passenger demanding to go to the Winter Olympics venue of Sochi, Turkish officials said.

The passenger was believed to have drunk alcohol and was calmed down by the crew and persuaded to let the plane land in Istanbul, according to Dogan news agency.

The scare came after the U.S. Transportation Security Administration had temporarily banned carry-on liquids, aerosols, gels and powders on flights between Russia and the United States.

The United States issued a warning on Wednesday to airports and some airlines flying to Russia for the Olympics to watch for toothpaste tubes that could hold ingredients to make a bomb on board a plane.

'RING OF STEEL'

Some 37,000 security personnel are on high alert in Sochi over threats by Islamist militant groups based in the nearby north Caucasus region to attack the February 7-23 Games, the most expensive ever staged at an estimated cost of $50 billion (30 billion pounds).

Separatist guerrillas seeking an independent Islamic state in Chechnya and neighbouring regions of southern Russia have vowed to disrupt the Olympics, which they say are taking place on land seized from Caucasus tribes in the 19th century.

Despite a "ring of steel" around venues, Russian forces fear a woman suspected of planning a suicide bombing may have slipped through.

Security analysts believe that an attack is in fact more likely elsewhere in Russia to humiliate Putin, who launched a war to crush a Chechen rebellion in 1999.

Twin suicide bombings killed at least 34 people in December in Volgograd, 400 miles (700 km) northeast of Sochi.

In a speech at the opening ceremony, International Olympic Committee President Thomas Bach called for an inclusive Games.

"Yes, it is possible - even as competitors - to live together under one roof in harmony, with tolerance and without any form of discrimination for whatever reason," he said beneath a fluttering Russian flag.

COMPETITION STARTS IN EARNEST

Organisers have defended the costs of staging the Sochi Games amid concerns from Olympic officials that the huge price tag could put potential bidders off in future.

They said much of the infrastructure built for 2014 was designed to be used long after the Games finished, and the plan was to turn Sochi into a year-round resort, international sports centre and amusement park.

Despite grumblings about poor accommodation and tight security, the mood among competitors and officials after a handful of early qualifying events in Sochi and at the mountain base 40 km (25 miles) to the northeast was upbeat.

"Conditions offered to the athletes are absolutely outstanding," said French Olympic Committee President Denis Masseglia on a clear, crisp day.

Saturday is the first full day of sporting action, with five gold medals to be decided.
Follow Emirates 24|7 on Google News.