World class field for Dubai Marathon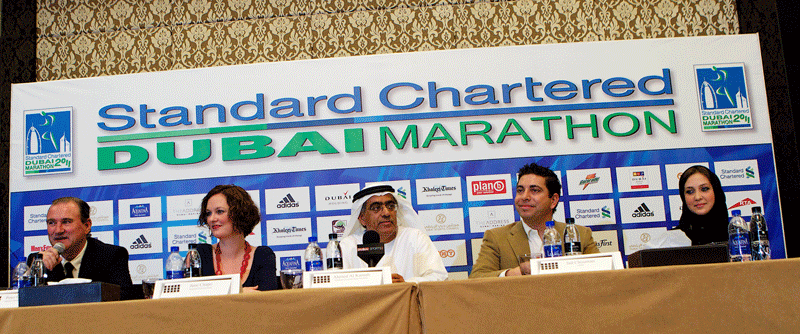 A world class field of elite men and women will compete for the richest first prize in distance running when the Standard Chartered Dubai Marathon gets underway on Friday.
After three consecutive victories by Ethiopian running legend Haile Gebrselassie, the world's richest marathon is open to a posse of young pretenders to his crown with race favourite Eliud Kiptanui heading a talented field that features 16 men who have all broken the 2 hour 10 minute barrier for the classic 42km distance.
With a first prize of $250,000 on offer, the competition is expected to be fierce in a race that is held under the patronage of His Higness Sheikh Mohammed bin Rashid Al Maktoum, Vice-President and Prime Minister of the UAE, and Ruler of Dubai, and staged under the aegis of the Dubai Sports Council.
Kiptanui and five rivals have all breached 2:07 but it's the young Kenyan who is the man to watch after a blistering time of 2:05.39 when he won in Prague last May. Kiptanui made all the running, with a second half faster than the first, and took two minutes off the course record with the 17th fastest in history.
His second European marathon was not so successful, but a fifth place in Berlin four months later in 2:08:05 could hardly be called a failure for a young man still learning his trade.
"He's in good shape for Dubai," said Kiptanui's manager Volker Wagner. "There's no pressure and he can do whatever he wants. He wants to go for the world record at some point, but maybe not this time; just run the course, see what it's like, and prepare for next year."
Chala Dechase (2:06:33) and Eshetu Wendimu (2:06:46) are back for another crack at the Dubai distance having finished second and third to Gebrselassie last year, while if Evans Cheruiyot has finally conquered the injuries which have hampered him since his Chicago 2008 win, in a personal best 2:06:05, then he too should figure.
Add to the mix Deressa Chimsa (2:07:54), Sammy Mugo (2:08:20), Muguleta Wami (2:08:32), David Kemboi (2:08:34), Dereje Tesfaye (2:08:36), Laban Kipkemboi (2:08:38) and the ingredients are there for the most open race in years when the marathon gets underway at 7am on Friday.
In the women's division, former winners Berhane Adere and Askale Magarsa of Ethiopia lead the contenders in their battle for the big prize, while last year's third place finisher Helena Kirop, also a record-breaking winner in Prague four months later, is just as likely as Kiptanui to make it a double win for the pair of Kenyans.
In addition to Berhane (2:20:42) and Askale (2:21:31), Atsede Baysa (2:22:02), Aselefech Mergia (2:22:38), Koren Yelela (2:24:33), and Roba Guta - at just two seconds slower - are all in the frame to win over one of the fastest marathon courses in the world.
"It's a very powerful field of elite athletes for both the men and women's marathon," said event director Peter Connerton at a press conference staged with sponsors, officials and athletes at the event's official hotel The Address Dubai Marina.
"We are delighted to welcome all of them to Dubai for what should be a memorable race. We already have the biggest field in the event's history with over 14,000 competitors spread across the marathon, the 10km and the 3km Fun Run - it should be quite a day."
The marathon will get underway from outside the American University just off the Sheikh Zayed Road at 7am, while the competitors in the hugely popular 10km will start 15 minutes later from the same start line.
Runners competing in the 3km will have to wait until 11am before they get the chance to shine, starting and finishing outside the Al Thuraya Tower in Dubai Media City.
As well as the sporting side of the $1 million event, the Standard Chartered Dubai Marathon will also feature a Marathon Village in the Dubai Media City Amphitheatre area with food and beverage stands, sponsor tents and entertainment throughout the day. Entrance to the village and to watch the event is free of charge.
The Standard Chartered Dubai Marathon is also supported by The Dubai Sports Council, Dubai Holding, 'Official Outfitter' adidas, The Address Dubai Marina, Dubai Eye 103.8 FM, Khaleej Times, TNT, Gatorade, Aquafina, Fitness First, Men's Fitness, Plan B and by government departments Dubai Police, RTA, Dubai Municipality DHA and the Dubai Ambulance Services.
Follow Emirates 24|7 on Google News.