Young Emiratis show skills at Par-3 League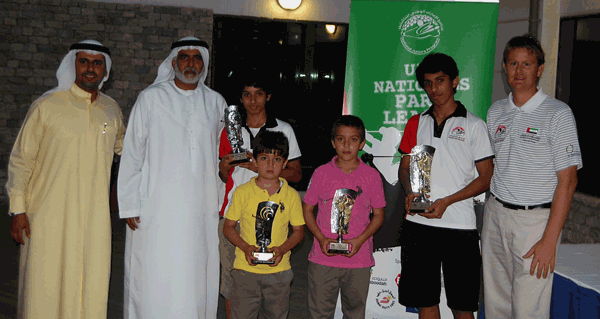 Abdullah Bin Thani and Mahmood Skaik made winning starts to their campaigns in the Par-3 League, organised by the Emirates Golf Federation (EGF) as part of their ambitious National Junior Programme, (NJP) at the Dubai Creek Golf and Yacht Club on Monday evening.
Bin Thani carded a gross 35 at the par-27 nine-hole course to take honours in the Division A (under-16), a good five shots ahead of Ahmed Bin Thani while Mahmood Skaik navigated the course in 52 shots to win the title in Division B (under-12), beating his nearest challenger Marwan Skaik by two shots.
Thirty youngsters from the NJP competed in the first edition of the league which is aimed at grooming the budding talent at grassroots level and creating a strong pool of players for future UAE national teams.
"We are very pleased with the initial response to the league. There was no dearth of enthusiasm and camaraderie among the players. I am sure we will see a marked improvement in the standard of golf as the league goes forward," said Saeed Albudoor, general manager of EGF.
"We will also be conducting special training sessions for boys with support from different clubs," he added. "The very intention behind this initiative is to identify and develop young Emirati talent."
Results:
Division A (under-16): Winner Abdullah Bin Thani 35 shots, runner-up Ahmed Bin Thani 40 shots
Division B (under-12): Winner Mahmood Skaik 52 shots, runner-up Marwan Skaik 54 shots
Nearest to the Pin: Abdullah bin Thani (on hole nine).
Follow Emirates 24|7 on Google News.