Ronaldo frustrated as Juve 'gift' United victory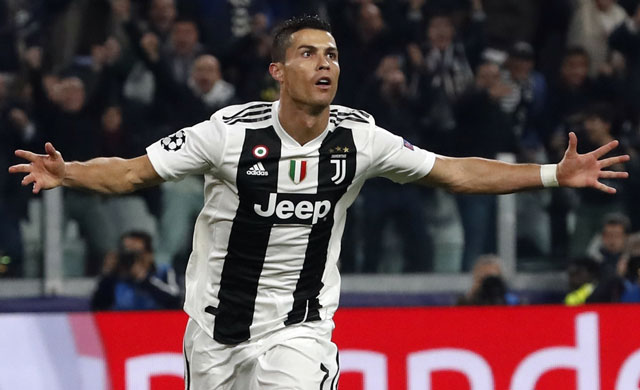 Cristiano Ronaldo could not hide his frustration that despite scoring his first Champions League goal for Juventus the Italian side 'gifted' a dramatic late 2-1 victory to Manchester United.
Ronaldo struck with a magnificent first-time volley on 65 minutes to leave Juve on course for the knockout phase, but Juan Mata equalised with an 86th-minute free-kick before Leonardo Bonucci turned into his own net.
It was the 121st goal in the competition for five-time Champions League winner Ronaldo who Juventus are counting on to help them lift their first European title since 1996.
Instead they must now wait for the remaining games against Valencia and Young Boys to seal their passage to the next round.
"United did nothing to win the game," Ronaldo told Sky Sports Italia.
"We dominated for 90 minutes, had so many chances, could have killed it off three or four times, but we relaxed and were punished.
"You can't even talk about luck, because you have to find your own luck and in this case we just gifted it to them.
"Now we've got to lift our heads, as we played really well and are still top of the group."
Juventus are top of Group H on nine points - two points ahead of United - with Valencia now on five and Swiss club Young Boys eliminated after losing 3-1 to the Spaniards.
Sami Khedira and Paulo Dybala both hit the woodwork before five-time Ballon d'Or winner Ronaldo brought the capacity 41,470 crowd to their feet when he hammered home Bonucci's long pass from just inside United's half.
United though had the final word as Mourinho brought on Mata and Marouane Fellaini, who helped turn the game round in just four minutes, the Spaniard bending in a free-kick from the edge of the box to give the visitors a scarcely-deserved equaliser.
Juve were then left in shock as Ashley Young's free-kick from the left bounced in off a combination of Bonucci and Alex Sandro after a frantic scramble in front of goal.
'Step by step'
For Massimilano Allegri's seven-time reigning Serie A champions it was a first defeat this season.
"The Champions League is a special competition, where you could be winning, but you can't relax, as anything can happen," continued Ronaldo, who has won the competition four times Real Madrid and once with United.
It was the eighth goal this season for the 33-year-old who arrived from Real Madrid in July in a deal estimated to cost 340 million euros in total over four years, on top of the 110 million-euro transfer fee.
"I was happy with the goal, but I'm a little bit disappointed because we should win the game with three or four goals."
"We are top of the group, we're a good team, but it's a long way for the final. These people, the club, they dream of winning the Champions League, but we have to take it step by step."
Captain Giorgio Chiellini said the team would have to learn a lesson, with a tough Serie a game coming up against AC Milan on Sunday.
"We have to learn from this match if we want to get to (the final) Madrid in June," said the defender.
"We knew Manchester have the qualities to make the difference and in the end we were not careful and good at bringing home a game that we deserved to win."
Allegri added: "It leaves a bitter taste in the mouth, but we can't win all the time.
"We need to find positives and that is that this defeat won't be painful in the end."
Follow Emirates 24|7 on Google News.