Russia World Cup was a success - and the underdog had his day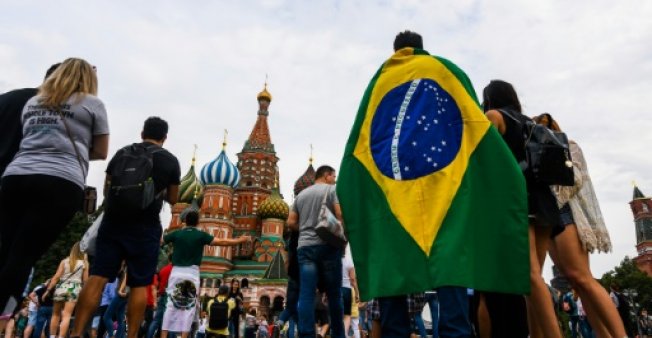 The World Cup final between France and Croatia in Moscow on Sunday brings the curtain down on a month-long festival of football that has changed perceptions of the host country while also giving hope to the underdog on the field.
Fears of racism, violence and diplomatic spats clouded the build-up in Russia, but since the football began, it has been an overwhelmingly positive experience for foreign visitors, of whom there have been more than a million according to FIFA.
Supporters from across the world took over the streets of Moscow and other host cities, with Latin American fans coming in especially large numbers.
There have been fewer visitors from western countries for a number of reasons, including well-publicised frosty diplomatic relations with Russia. But England fans were among Europeans who roused themselves to come to Russia towards the end of the competition when they thought their team had a chance of going all the way.
- A different side -
Having been scared off by stories that they could be targeted by hooligans, they have seen a different side to Russia and most will leave with the same impression as their team's manager.
"The organisation of the tournament has been brilliant, our welcome in Russia in every city has been outstanding," said Gareth Southgate after his team's 2-0 defeat against Belgium in the third-place play-off in Saint Petersburg.
"There is a lot talked about the relationship between our two countries, but on a personal level, and mixing with the people, we couldn't have been made more welcome."
Whether it has really been "the best World Cup ever", as FIFA president Gianni Infantino described it, is one thing. But Russia has put on a great show, and the football has been memorable.
There have been slightly fewer goals than four years ago in Brazil (163 before the final compared with 171 in total in 2014), but there has only been one goalless draw, between France and Denmark.
Initial fears about the introduction of video assistant referees have proven largely misplaced, despite some controversies during the group stage.
Most refreshingly of all, Croatia's remarkable run to the final and the premature departures of powerhouses like Germany, Spain and Argentina show that international football can still be so unpredictable, in contrast with the UEFA Champions League, a competition dominated by a few wealthy clubs.
It was meant to be the World Cup of Lionel Messi, Cristiano Ronaldo or perhaps Neymar -- Brazil went out in the quarter-finals, while Messi and Ronaldo were eliminated in the last 16 and, now in their 30s, may never win the trophy.
- Croatia an inspiration -
Kylian Mbappe, Eden Hazard and Luka Modric have shone, but this has not been a World Cup dominated by an individual, a reminder that it is wrong to reduce this team sport down to just a few names.
"For me, Messi is the best player in the world, Neymar is very close to Messi, and all those star-studded teams who relied and focused exclusively on these players, went home early," said Croatia coach Zlatko Dalic.
"The teams who were compact, united, who fought for something, remained longer. Maybe this is one of the weirdest World Cups."
Perhaps it has been, especially as their run to the final suggests that it could be futile for a country to plan long-term for success.
Football in Croatia is wrought by infrastructural and political problems, and Dalic himself only became coach late in their qualifying campaign, but thanks to his impact and some good players they have gone far.
"It's inspiring for anyone in the world. If Croatia win the World Cup, you should be able to fight for your dreams," said Belgium manager Roberto Martinez.
They have given hope to smaller countries, who will aspire to emulate their success as the World Cup heads for a new, uncertain era, with the 2022 tournament in Qatar being played in November and December, and the controversial expansion to 48 teams set for 2026 in North America.
Follow Emirates 24|7 on Google News.