Sharks Sevens coach Roelof Kotze 'excited' with UAE rugby 'challenge'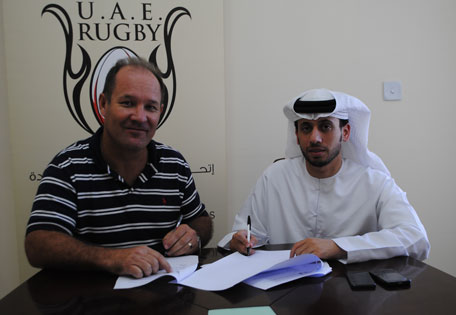 UAE Rugby's new Performance Manager Roelof Kotze has got down to the task of identifying Emirati talent less than 24 hours after arriving from Durban, South Africa to take up his maiden assignment with a national squad.

"I think it's a good time to be here. To help with the process of integrating more Emiratis into the side, as I find that very exciting," said Kotze who has been associated with the famed Sharks Academy in Durban for 13 years.

"I don't think it as pressure so much. I think it is a challenge. It is going to be interesting working with different players," said the 46 year-old of his new assignment.

"The UAERF is delighted to announce the appointment of the South African Roelof Kotze as the new performance manager," the federation said in a statement in December.

The former Free State three quarter who coached the Sharks Sevens with distinction for 10 years is not venturing into unknown territory.

"I came across them (UAE players) when we were setting up the Sharks Academy (in Dubai) and when they came to Durban last year I did a bit of coaching with the squad," said Kotze whose main task would be to get the UAE national team up and running for the Asian Games to be held in Korea in September, 2014.

He will also oversee the performance of the UAE XVs side in their Asian Five Nations Division One campaign in April 2014.

"Our main focus is how do we prepare our sevens team to take part in the Asian Games," Qais Abdulla Al Dhalai, the secretary general of the UAE Rugby Federation (UAERF).

"We have other targets, like getting promoted to the top five of the Asian Five Nations."

"I specialise in Sevens although I've been a XVs coach for the last 26 years. I have
being doing it since 1988 at various levels from clubs, schools and provincial levels. I can do the XVs because it is an interesting challenge because there are expats and Emirati players involved in that. But I think when we spoke, the focus is going to be on the Sevens. To get ourselves ready for the Asian Games," said Kotze who took charge of his first training session at The Sevens on Friday.

"I only know of the players and what I saw at our camp in Durban. I think we were mostly in the bottom half of the draw in the Asian Sevens Series and if we can be in the bottom but start winning trophies that would be good for us," he said when asked about his goals for UAE.

He was pragmatic of setting UAE Rugby targets during his one-year assignment.

"The target is we want to see an improvement in the players, in their skill levels and conditioning levels, and see that we take the team forward from where it has been last year. We haven't realistically set targets to win tournaments but in the not too distant future we will get there. Obviously I think to set the target, firstly I want to get the squad up first," he said.

Asked what made him take up this assignment, he replied: "There is always a history of where I come from in developing players. I see it as an opportunity here where there is talent to be developed and players to be found that need to be developed to achieve the goals of the federation (UAERF). So I saw it as an exciting challenge to coach the side," he said.

"My strengths I would say is I'm a very good coach as far as coaching the basics and getting the basics across to people. And that is what I perceive as the need here. That is what we are going to achieve. Get the basics in place and then take it up step by step so we can be as good we can possibly be," he added.
Follow Emirates 24|7 on Google News.