Sochi's super-teen: Yulia Lipnitskaia… Russia's figure skating queen is back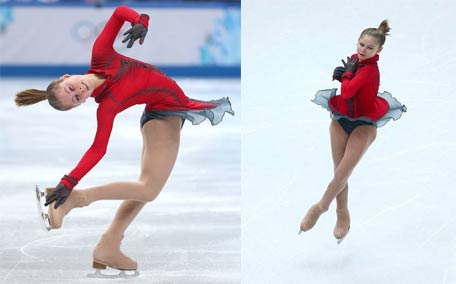 Yulia Lipnitskaia is back at the Sochi Olympics figure skating venue for practice.
(Photo by Getty Images)
She did a full run-through of her programme in Tuesday's session, but did not talk to the media.
After thrilling her country by helping Russia take the gold medal in the team event Feb 9, the 15-year-old skating prodigy went to Moscow to train for the women's individual competition.
(Photo by Getty Images)
The Russian skating federation believed she would get more quality time on the ice there than in Sochi, where she created such a sensation by winning the short and long programs in the team event.
(Photo by Getty Images)
The women's short programme is Wednesday night, followed by the free skate Thursday. Lipnitskaia skates 25th in the short programme.
Russian President Vladimir Putin congratulates Yulia Lipnitskaya of Russia after the Team Figure Skating event on day 2 of the Sochi 2014 Winter Olympics at Iceberg Skating Palace at Iceberg Skating Palace on February 9, 2014 in Sochi, Russia. (Photo by Getty Images)
Follow Emirates 24|7 on Google News.