Somdev Devvarman: Fans' 'new Sania Mirza' in Dubai... Bhupathi's Top 50 pick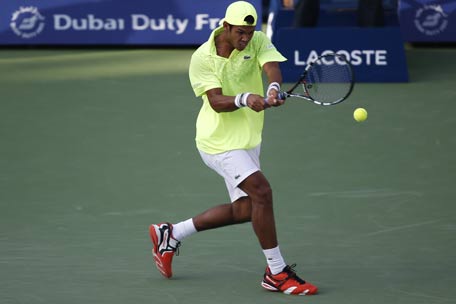 Sania Mirza, at the peak of her prowess, was one of the biggest draws at the Dubai Championships.
The huge Indian resident population of the UAE would ensure any match she played - singles, doubles, first round - was a house full. And with Mirza, more often than not, it was the first round.
In recent years, as Mirza, post-mariage to Pakistani cricketer Shoaib Malik and settling down here in Dubai, began re-inventing herself as a doubles specialist, the Indian Dubai fan contingent have been left without a 'home' star to cheer.
Then, on Tuesday, Juan Martin Del Potro was forced to retire from the Dubai Duty Free Tennis Championships with a left wrist injury.
And the Indian wildcard playing him - Somdev Devvarman - was through to the next round.
Now, the Indians have a new 'underdog' to back.
Indian doubles tennis legend Mahesh Bhupathi, in Dubai for the tennis, tells Emirates 24|7: "Somdev is one of the hardest workers on the tour. His results continue to improve. Looking forward to him cracking the top 50 this year."
Bhupathi should know, he has worked closely with Mirza and with his career Grand Slam in mixed doubles.has seen enough Slam tennis to predict a talent.
In the stands though, Devvarman is a growing star.
Tennis afficinado, Dubai resident and regulat at the Dubai Tennis Stadium, Lalit Vase says: "It has been quite a while since India has produced a tennis player with so much promise. He definitely has great potential, His style and attitude are refreshing to the Indian tennis fan."

A file picture of Sania Mirza playing at the Dubai tournament. (GETTY)

What's more Devvarman faces his next match against another wild card entry and so, has every chance of making the third round here in Dubai.
Win that one, and who knows?
"The Dubai Duty Free Tennis Championships was delighted to give Malek Jaziri a wild card after his recent excellent results on the Challenger circuit," said Tournament Director Salah Tahlak.
"His performance against Igor Sijsling was impressive and he now has a chance to go further as he faces another wild card, Somdev Devvarman in the next round. That match provides a great opportunity for both players."
Del Potro, the number two seed had been suffering with the injury before he arrived in Dubai, and he sought medical advice in the United States following his opening round loss at the Australian Open last month.
Although he broke to lead 2-0, Del Potro immediately dropped his own serve in the next game and after failing to convert three set points on his opponent's serve at 6-5 he conceded the tiebreak 7-3.
"My wrist is hurting a lot and it was really tough to play today and I tried everything, but it's very difficult play like in these conditions, you know, playing slices or I cannot be the player what I would like to be," said Del Potro.
"It's hurting all the time, it's sometimes less and sometimes little more. But it's hurting, and I have been in contact with my doctor all the time. He's trying to keep me motivated to keep playing, but I know what it's my limit playing on court.
Today was enough. I have been doing a big effort to play this tournament, and it was not enough to play what I like to play."
Devvarman realised after a few games that Del Potro was uncomfortable and exploited the situation.
Del Potro in action versus Devvarman before he retired hurt. (Supplied)
"After starting the match, I realised that he wasn't very comfortable hitting backhands obviously, and I tried to make him hit as many as I could, and he wasn't really hitting over it, so I knew that he wasn't happy," said Devvarman.
"I just tried to fight hard and tried my best to make things tough for him, make things easier for me.
"Obviously it's unfortunate, you know, especially for a guy like him. I think he's been playing really good tennis to be in the top 5, and I wish him nothing but the best and a good recovery."

Djokovic wins
Defending champion and top seed Novak Djokovic strode into the second round of the Dubai Duty Free Tennis Championships on Tuesday, beating Denis Istomin 6-3 6-3.
"It was a tough draw against Denis who can play big from back of the court," said Djokovic. "He's a tall guy, can serve well. He loves playing on the hard courts, and he likes playing on the big stage. I needed to work for my games. My serve worked really well in the second set, and that helped me to get some free points."

Berdych claims 13th victory in 14 matches
Earlier, Tomas Berdych claimed his 13th victory in his last 14 matches by beating qualifier Marius Copil 6-3 6-4.
Although he looked comfortable throughout, just one break of serve to lead 3-1 decided the opening set. In the second, the 2013 Dubai runner-up broke serve to lead 1-0 and once again struggled to gain any further advantage, saving a break point and failing to win any of five match points on his opponent's serve at 5-3 before closing out the contest with his seventh match point.
"Well, it's been a tight one by the score, I would say, but I think I had a quite many chances even after I made my breaks each set," said Berdych "And then, you know, especially the last game I should have done something a bit different, especially on the first point when I didn't been so focused on that. That's it. You lose one point, and then the guy serves really well. I got like four or five aces (against me).
"But then later I was able to serve it out and just close out the game," said Berdych who fell in the semi-finals of the Australian Open to Stanislas Wawrinka and then won the Rotterdam title before arriving in Dubai."

Youzhny over Michal Przysiezny, Lukas Rosol beats Daniel Brands
There was a 6-3 6-4 win for sixth seed Mikhail Youzhny over Michal Przysiezny, Lukas Rosol beat Daniel Brands 7-6 6-4 to set up a clash with eighth seed Dmitry Tursunov, and Tunisian wild card Malek Jaziri saved five match points to claim an upset 0-6 6-4 7-6 victory over Igor Sijsling.
To win free tickets to the Men's Tennis finals click here
Follow Emirates 24|7 on Google News.