Spain 'united' ahead of clash with Ronaldo's Portugal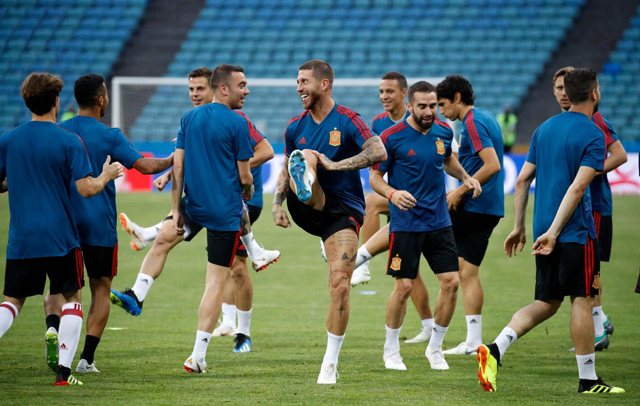 Spain captain Sergio Ramos and new coach Fernando Hierro displayed a united front as they looked ahead to Friday's World Cup opener against Cristiano Ronaldo's European champions Portugal following an extraordinary 48 hours.
Hierro and Ramos posed together, smiling for the cameras, at a press conference inside the Fisht Olympic Stadium in Sochi, the venue for the Group B clash between the Iberian neighbours.
Coming into this World Cup, Spain had been seen as one of the outstanding favourites to lift the trophy in Russia after a two-year unbeaten run under Julen Lopetegui.
But Wednesday's sensational decision by the Spanish Football Federation to sack Lopetegui, in response to the announcement he would take over at Real Madrid after the tournament, has threatened to derail their chances.
Suddenly Hierro -- a great former Real and Spain defender but a man with little coaching experience - finds himself in charge of a side eager to show they can still go all the way on Russian soil.
"There is nobody better than Fernando. He was a great player and has known us for a long time," said Ramos, the Spain captain.
There had been fears that the announcement of Lopetegui's appointment by Real could open up old divisions between the Madrid and Barcelona factions in the Spain squad.
But Ramos showed an eagerness to move on and focus on the competition, while insisting that this week's events had not upset any relationships.
"There are no cracks. We are all individuals and we all think differently, but the collective idea is the same - we are here to go for the World Cup," said Ramos.
"This is special, it is my first World Cup as captain. In football you learn above all during the bad times. What has happened has united us."
There were plenty of smiles and embraces between the players as they trained on the pitch in the stunning Sochi stadium, situated a stone's throw from the beach and the Black Sea.
At the same time almost 5,000 kilometres away, Lopetegui was being unveiled as the new Madrid coach.
He described the day he was sacked as "the saddest day of my life since the death of my mother", and the 51-year-old former goalkeeper will surely find it difficult to watch Friday's match.
Meanwhile Hierro, whose previous experience as a coach amounts to a season in the Spanish second tier with Oviedo, admitted he will not be making sweeping changes.
"We are absolutely fine coming into this game. We know quite clearly what we want. We respect the champions but we have full confidence in the boys and what they have done in these last two years," said Hierro.
Ronaldo's last chance?
Spain will be coming up against a Portuguese side who have come to Russia as the defending European champions, with Ronaldo knowing this is surely his last shot at winning the World Cup.
Both teams are expected to come through a group also containing Morocco and Iran, but Friday's game could have a major impact in determining who finishes top.
Ronaldo, meanwhile, is hoping to improve his record in front of goal on this stage - he has scored only three times in three World Cups.
"I prefer to have him on our side. We know how important he is, he is a constant danger," admitted Ramos of his Real Madrid colleague.
While Spain have a doubt over who will start at right-back with Dani Carvajal still struggling for full fitness, Portugal coach Fernando Santos has no injury worries.
He appeared confident of delivering a first victory for his country over Spain at a major tournament since Euro 2004.
"This is a 'Classico'", said Santos. "We are two countries who have a lot in common, not least the fact we share a border. We are neighbours, but also teams with great quality."
"We don't want to be arrogant but we are full of hope."
Follow Emirates 24|7 on Google News.