20 see DDF Tennis Championships for free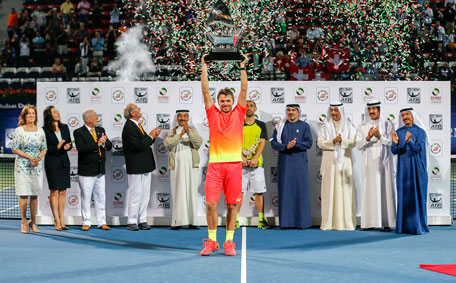 Ten readers of Emirates 24|7 won the chance to see live action on the courts of the world-famous Dubai Duty Free Tennis Championships in Dubai.
E24|7 is aware that the tickets get sold out fast and many enthusiasts do not get to see the matches or their favourite tennis stars.
Emirates 24|7 acquired 20 tickets to give away for free... to say 'Thank You' by recognising and rewarding its loyal readers.
"I am looking forward to this weekend by winning these passes. Moreover it's the Final match so I am very happy," said Joachim Stoehr, German, when told of his win.
Following are the 10 winners of couple passes who were selected via a random computer draw.
1. Sushruth Mohan – India
2. Edelyn Baria – Philipines
3. Pradeep Ravindranathan - India
4. Hiza Olaniyi – Nigeria
5. Zubair Modak – India
6. Allwyn Mendonca - India
7. Patricia Caruth – Britain
8. Joachim Stoehr – Germany
9. Jonathan Harding - India
10. Farooq Haji Abdullah [did not reveal nationality]
Watch this space for the next free win!
Follow Emirates 24|7 on Google News.