Australian Open: Wawrinka reaches first Grand Slam final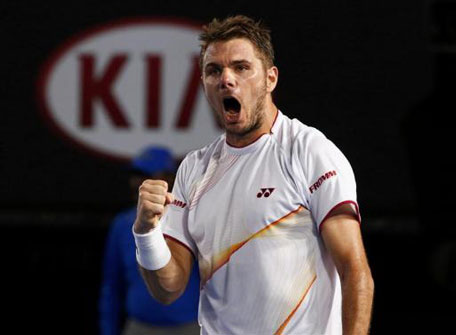 Stanislas Wawrinka will bid to break the 'Big Four' strangle-hold on Grand Slam silverware after edging Tomas Berdych 6-3 6-7(1) 7-6(3) 7-6(4) in a serving war on Thursday to reach the Australian Open final.

In a slow-burning contest that occasionally roared to life, the Swiss eighth seed stepped up on big points on a tense night at Rod Laver Arena, reaching his first major final where he will meet either Rafa Nadal or compatriot Roger Federer.

With only a single break of serve in the entire match, Wawrinka upped the ante in the decisive tiebreak, sealing the second of three match points with a monster 214 kph (132 mph) serve that whistled into Berdych's body.

"I don't know what to say. I'm speechless. It's amazing," Wawrinka, choking back tears, said in a courtside interview.

"I've working really hard for so many years, trying to improve my game, try to get some big match in big stadium. Now I'm the first final in a grand slam, so I can be only really happy."

The win continued Wawrinka's fairytale run, having sensationally ended Novak Djokovic's three-year reign over Melbourne Park in a five-set quarter-final classic.

Wawrinka faced Berdych with queries over his fitness but was switched on from the start, and struck the first blow by breaking the seventh seed in the eighth game.

His first serve deserting him briefly, the Czech notched a string of unforced errors to proffer a break point, then pushed an overhead smash wide of the tramlines to hand the Swiss the initiative.

Door ajar, Wawrinka barged through with a huge serve to clinch a set point then angled a devilish second serve into Berdych's body to take the early lead.

With neither player giving any quarter on serve, the next set went to a tiebreak, where Berdych, having been largely outplayed in the rallies, played brilliantly.

Crunching a succession of huge baseline winners, Berdych raised five set points in a flash.

Flummoxed, Wawrinka found himself bunting a second serve into the net on the first of them and trudged back to his chair with his lead wiped out in a few dizzying minutes.

SEARING WINNER

Having brushed off bigger setbacks against Djokovic, Wawrinka returned to the court to tear through a service game, yelling "Allez!" after painting the line with a searing backhand winner.

However, Berdych was unflappable, and earned his first break point at 4-4 with a massive forehand down the line.

Bamboozling the Czech with a slow kicking first serve, Wawrinka bashed another two faster, quashing the threat and bellowing "Come on!"

Another tiebreak arrived, and Berdych's serve promptly crumbled. A double-fault handed Wawrinka a crucial mini-break, and a second the set.

Deflated, Berdych netted a half-hearted backhand to concede a break point immediately, but saved it and then patently refused to yield.

Digging in for another set riven with tension, Berdych's defiance began to grate on Wawrinka, who began to labour on serve and snipe at the chair umpire over close line calls.

But the Swiss composed himself in the final tiebreak, and fittingly killed the contest with a blistering first serve that set him up for the biggest match of his life.

"It was a strange match," said Wawrinka. "When you play a four-set match with three tiebreaks it is rare, but my goal was to be more aggressive than him.

"I had the feeling he was really nervous and really tired because he gave me a little bit some points in the third set tiebreak and fourth set tiebreak with some double faults.

"I think he start to be really nervous."

A gloomy Berdych struggled to answer questions in his post-match press conference, but was satisfied his game plan had worked "nearly" perfectly.

"Just the tiebreak is always a big lottery, and he was the lucky one today," he told reporters.

"I'm starting to get quite annoyed with the matches losing in tiebreaks. I'm not pretty good in that."
Follow Emirates 24|7 on Google News.