Azarenka beats Serena to win Qatar Open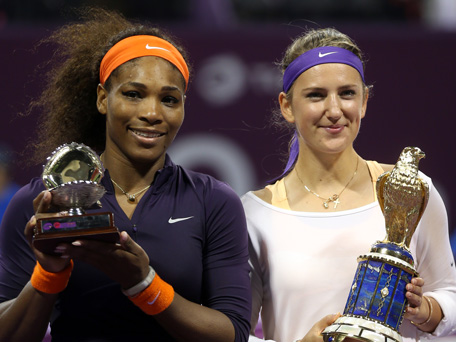 Defending champion Victoria Azarenka beat Serena Williams 7-6 (6), 2-6, 6-3 to win the Qatar Open on Sunday, earning her 16th title and ending a 10-match losing streak against the American.
Azarenka will give up the No. 1 ranking to the second-ranked Williams on Monday but extended her current winning streak to 14 matches, which included her second Australian Open title. More importantly, she may have turned around what has been a one-sided rivalry against Williams. Azarenka had not beaten Williams since 2009 in Miami, and had a 1-11 record against the American going into Sunday's final.
"It feels incredible," Azarenka said. "You know, this tournament is really great. ... It had such a strong field going into it, and I'm really glad that in the end of the week I'm the one who's holding the trophy."
Azarenka broke to go up 2-1 when an erratic Williams hit one of her four double-faults in the first set, but the American ensured it was back on serve after eight games. Williams struggled with her first serve throughout the first set and hit 26 unforced errors, but still had a set point at 6-5 in the tiebreaker. However, she hit a poor forehand into the net, and Azarenka then converted her first set point with a great return.
Williams dominated the second set with her powerful serve and forehand, while Azarenka could only hit 39 percent of her first serves.
Azarenka fell behind 0-30 in the first game of the decider but recovered and took a 3-0 lead. Williams then saved a match point at 5-2 to stay the match, but Azarenka clinched the win on her next service game when Williams hit a forehand wide.
"I just wanted to fight and give it my best, give myself every opportunity I can," Azarenka said. "I started with love-30 (in the third) and I was like, 'You have to keep it together. You have to do something.' Serena was on a roll ... so I had to really step up my game. I'm really glad I could turn it around and stay tough."
Williams praised Azarenka's performance but insisted she still wasn't at her best. Struggling at times with a cold and still nursing a right ankle injury that bothered her at the Australian Open, Williams appeared sluggish in early-round matches and needed three sets to beat Petra Kvitova in the quarterfinals.
She made 48 errors against Azarenka and only converted three of her seven break points.
"This whole week, I just don't think I played my best tennis, and I was fighting every match," she said. "I can't play that quality game against a top player like Victoria. I have to be able to pick up my game, and I wasn't able to do that today. I stayed at a two out of a 10, and I can't play that low."
Williams had won her last eight finals. Still, she took comfort in the fact that she is returning to the No. 1 ranking for the first time in almost two and a half years. She becomes the oldest player to hold that title, breaking the mark previously held by Chris Evert, who was No. 1 in 1985 just shy of her 31st birthday.
"I'm definitely not happy, but I'm No. 1," she said, smiling. "It was such a long journey, and after winning Wimbledon and the U.S. Open and the (WTA) Championships, I thought, I just don't think I can win anymore. I don't know what it takes to be No. 1. So it was awesome to come here and achieve that goal."
But with Azarenka's win on Sunday, Williams' stay atop the rankings may only last one week.
Azarenka can reclaim the top spot in Dubai next week if she reaches the final and Williams does not.
But the rivalry doesn't seem to prevent the players from getting along off the court, as they laughed and chatted about the upcoming Academy Awards after the trophy ceremony.
"I always respect Victoria. I think she's a really good player. Obviously she's so consistent and she plays well," Williams said. "It's nice to always play someone that you go home and you're like, 'OK, I didn't do great, but let me work harder'. She inspires a lot of people to work harder, and definitely me."
Azarenka agreed.
"I feel like we're pushing each other to go to the limit every time, to step up, to improve, and that's tremendous motivation to have," she said. "You always know that somebody's out there wants to push you. For me, it's incredible privilege to be in that position."
Follow Emirates 24|7 on Google News.