Back at full power, Nadal closing in on La Decima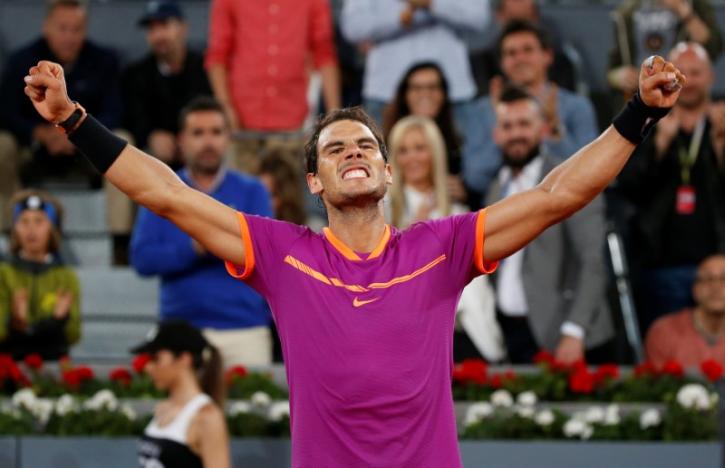 The video of Dominic Thiem's surprise win over Rafael Nadal last week in Rome will be in high demand for those harbouring hopes of stopping the Spaniard's march towards a 10th French Open crown next week.
It will be about their only crumb of comfort because the 30-year-old, apart from that blip at the Foro Italico, has looked back to his invincible best on the red dust as he seeks to regain the crown he lost two years ago.
Watching Nadal rack up 17 consecutive victories during which he swept through Monte Carlo, Barcelona and Madrid was like turning the clock back a decade when to challenge him on a claycourt was an act of folly.
Until he faced the stylish young Austrian Thiem, whom he had dispatched with ease the week before in the Madrid final, Nadal had dropped only two sets during the European claycourt swing.
In Madrid he trounced Nick Kyrgios, David Goffin and French Open champion Novak Djokovic on his way to a record-extending 52nd title on his favoured clay.
No wonder it is hard to find anyone not backing him to claim 'La Decima' in Paris.
"I think the only player you can really believe will win the French Open is Rafa," Henri Leconte, the last Frenchman to reach the final in 1988, told Reuters by telephone.
"I was with Boris Becker in Monte Carlo watching him beat David Goffin and it was amazing. Nobody could withstand the way he was playing. And I don't think we need to consider the Rome defeat because he needed to relax a little for the French."
LOW CONFIDENCE
Nadal withdrew in the third round at last year's French Open with a wrist injury and in 2015, with his confidence at a low ebb, he was overwhelmed by Djokovic in the quarter-finals.
His days of domination looked over, but Nadal ended last season early to fully recover from his wrist injury and since returning in January he looks a man reborn.
John McEnroe, commentating for Eurosport in Paris, said it was also hard to look past Nadal for the title.
"It's hard to say if he's all the way back, he looks tremendous," the American said. "It's pretty darn close to his best. If he's healthy and it sounds like he is, it's the toughest thing to do in tennis to beat him on clay."
Nadal has a Tour-leading 36 match wins, sits top of the ATP Race standings and is back at number four in the rankings.
He has remained fiercely loyal to his career-long coach, uncle Toni, but has added fellow Mallorcan Carlos Moya to his camp, pepped up his serve and has rediscovered the length, power and penetration of his mighty forehand -- the key weapon in his nine French titles.
"He has worked on hitting the ball harder this year," Leconte, also working for Eurosport at Roland Garros, said.
"He went back to the old racket and has more control, which is why maybe he can hit it harder. He's maybe hitting less spin. He's found some different angles. Even the backhand is back.
"To beat him over five on clay, it's the toughest ask in tennis. It must feel like 10 sets you have to win. You'll have to play the best tennis of your life."
It is actually Nadal's best start to the European clay season since 2010 when he won all three tournaments he played in the build-up to Paris. The Spaniard puts this year's resurgence down to the decision he took last October to rest.
"What helped me is that I was able to practice as much as I wanted, because I was healthy enough," Nadal said.
"I practised for one month and a half very well, very strong with a lot of hours and doing the stuff that I really wanted to do and that sometimes my body doesn't allow me to do."
World number seven Thiem showed the blueprint for beating Nadal with a brilliant two-set performance, red-lining throughout a contest that saw him crunch one of his trademark singe-handed backhands at 100mph.
Leconte, however, says the French Open represents an entirely different challenge.
"Can anyone play like that for four, five, six hours?" he said. "That's the challenge. It's formidable."
Follow Emirates 24|7 on Google News.