Bouchard hailed as new Sharapova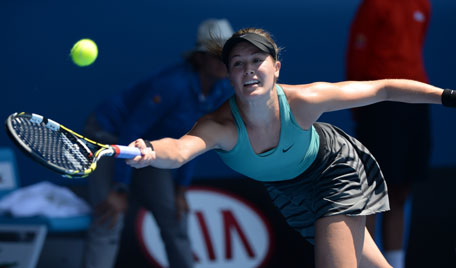 Canadian teen Eugenie Bouchard Thursday said she was destined for the top echelons of the game after announcing her arrival on the world stage, as her agent hailed her as the new Maria Sharapova.

The 19-year-old, known as Genie, has turned heads and won plaudits from the tennis community with her eye-catching run to the Australian Open semi-finals.

She had also won the hearts of fans with her confident personality and clean-cut good looks, with many predicting a big future ahead.

"I'm proud of how I've improved as a player throughout the tournament. But I'm never satisfied with losing. I'm always disappointed," she said, after losing to China's Li Na in straight sets. "You know, I always want to go further and do better."

Bouchard, the WTA newcomer of the year in 2013, had a horror start to her first Grand Slam semi-final, losing her first three service games to love, before the nerves settled and she got into the match.

"I was kind of just letting her do all these winners side to side. It wasn't really my game," she said.

"I just tried to get into the rallies more, try to step in a little bit more, and try to put more pressure on her because she was just putting a lot of pressure on me."

It was only her fourth Grand Slam appearance, but her composure and aggressive game belie her youth.

She also has the photogenic looks that sponsors crave and her agent Sam Duvall, who has worked with her for six years, said she ticked all the boxes.

Duvall told Fairfax Media he believes she can surpass Sharapova, who earned a reported $29 million in prize money, endorsements and appearance fees in the 12 months to last June, as the most marketable female athlete on the planet.

"Marketability-wise, I think she can be the most famous tennis player in the world," Duvall said.

"She's got the personality, she's got the game, she's got the looks. She speaks two languages (French and English) and the crossover appeal is great.

"Aussie fans love her, French fans love her... I think she is very rare, let's put it that way. I really think she has the ability to be more marketable than Maria."

He said interest in Bouchard, whose main sponsorship deal is with Nike, has skyrocketed during the past week.

"She's one that understands that the better she plays tennis, the more money and the more marketable and the more famous she's going to be," he said.

For Bouchard, the success in Melbourne comes as no surprise. She says she has been working towards it since she was a child, but knows winning a Grand Slam is what will really launch her into the big time.

"Yeah, I think that's the biggest thing to me, is winning a Grand Slam," she said.

"The four best tournaments of the year. I feel like I made good progress this week, a big step getting close to that goal I'm not there yet, so I have a lot of work to do.

She added: "I feel like I belong in the top levels of the game. I walk away with confidence."

Despite the loss, Bouchard is forecast to break into the world's top 20 when the new rankings are released on Monday.


Follow Emirates 24|7 on Google News.