Djokovic glad to carry lighter workload into final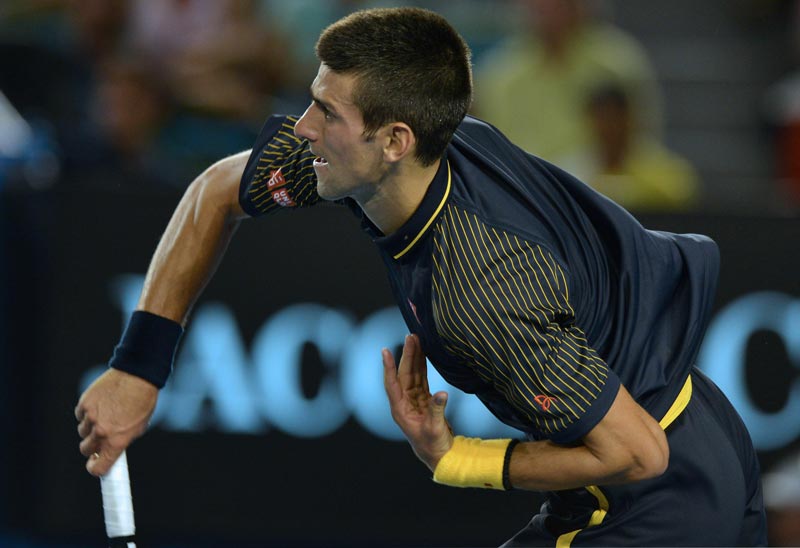 Supremely confident Novak Djokovic says he is feeling fitter and fresher than he did carrying last year's leviathan workload as he sits back and waits for Sunday's Australian Open final.
The Serbian world number one has the benefit of an extra day's rest and is in prime position to go after his fourth Australian title against either Roger Federer or Andy Murray, who play their semi-final later Friday.
Djokovic demolished Spanish world number four-elect David Ferrer in less than 90 minutes in Thursday's one-sided semi-final to clinch his third straight Australian final appearance.
It is in stark contrast to 12 months ago, when Djokovic had to dig deep to win the title after fighting off Murray in a five-set semi-final over 4hr 50min ahead of his 5hr 53min final triumph over Rafael Nadal, the longest-ever match at Melbourne Park.
Djokovic, who taken to the brink in a five-hour five-setter with Swiss Stanislas Wawrinka in the fourth round, has bounced back with untroubled wins over fifth seed Tomas Berdych and Ferrer.
The defending champion's confidence is sky-high as he builds towards a shot at his sixth Grand Slam crown.
"I definitely prefer being fitter for the final and having a little bit more time than I had in 2012," Djokovic said. "It's quite different circumstances that I have to face this time.
"Last year I played five hours in the semis and had only a day-and-a-half to recover for another six hours with Nadal.
"This year it hasn't been the case, and I'm very glad. I was pushed to the limit in the fourth round and I've had some really physically tough matches in this tournament, and I'm glad that I got through it.
"Right now I feel great on the court."
Those are ominous words for his title rivals as he has dropped just three sets and spent a total of 14hr 37min on court to reach the final.
Djokovic described his tennis as "incredible" against the outgunned Ferrer, who despite his high ranking was made to look second-rate as his serve was broken seven times and he won only one-third of the match points against the rampant Serb.
"It can only do positive things for my confidence," he said. "Definitely at this stage of a tournament, playing semi-finals against the world number four and being able to perform as well as I did, it's incredible.
"I have a great feeling about myself on the court at this moment. Now I have two days off before the finals which gives me enough time to get ready and recover for the finals," Djokovic said.
"I don't expect myself to play always this well, but I was free in my mind tonight and hopefully I can maintain that to the final," he added.
"This extra day's break definitely serves me well, physically, mentally, emotionally, so I can get all my strength for the final."

Follow Emirates 24|7 on Google News.