Dubai champion Federer's goal is another Wimbledon title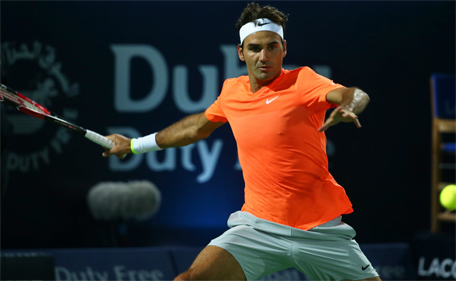 Roger Federer is proud of all his Grand Slam singles titles, but if the Swiss master could add just one more to his record men's haul of 17 it would be at Wimbledon.

"It would be my favourite choice if I had a choice right now," Federer, 33, told reporters on the eve of Tuesday's BNB Parabas Showdown exhibition at Madison Square Garden against 23-year-old Grigor Dimitrov.

"I'd love to win Wimbledon. I think it's possible, and I think if I win Wimbledon it's more cool for me personally, and my team and Swiss people and my fans."

Another singles title at the All England Club would give Federer a record eighth Wimbledon crown, breaking his tie with Pete Sampras and W.C. Renshaw of the late 19th century.

It would also make him the oldest Wimbledon men's winner, eclipsing Arthur Ashe, who was 31 when he won in 1975.

Federer said he is not consumed by a quest to add breathing room to his record total with Rafa Nadal sitting on 14, six ahead of world number one Novak Djokovic, who lost to the Swiss in the final at Dubai on February 28.

Federer said Nadal could charge past him, but felt Djokovic was a longshot.

"Who knows? Rafa has the best shot if he wins the French Open a few more times and if I don't win anymore he can catch me quickly.

"I guess Novak is still a long shot but it really depends on how dominant his next years are going to be," said Federer, whose wife and two sets of twins travel with him around the globe.

"They have to be very dominant because Rafa and me, we both are still playing. It's not like we're both retired or anything.

"I'm more focused on me than on them. I hope to make it more difficult on them but at the end of the day records are there to be broken."

Federer, whose last Grand Slam triumph came at the 2012 Wimbledon, made it clear that setting the all-time record meant a great deal to him.

"I was very happy to get the Grand Slam record at Wimbledon in 2009," he said about surpassing Sampras's total of 14. "It was a dream come true and it was a huge motivation to get to that after Pete had set that record."
Follow Emirates 24|7 on Google News.