Dubai champion Kvitova blown away as Doha storm continues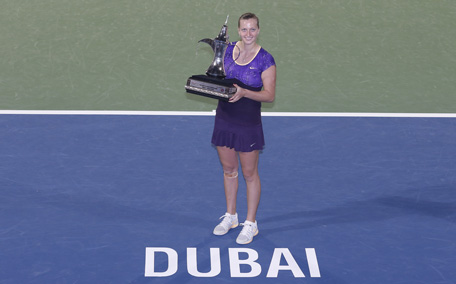 Former Wimbledon champion Petra Kvitova became the latest to be blown away as a mighty storm of seeding upsets continued at the Qatar Open on Friday.

Ten seeds had failed to reach their allotted places when Kvitova, the number three, was outplayed in straight sets in the quarter-finals by Jelena Jankovic, whose recovery from a career-threatening plunge is continuing nicely.

Purely in tennis terms the result was barely a surprise, as the former world number one from Serbia had beaten the unpredictably talented Czech in their last meeting, late last year in Beijing.

But the emphasis of the 6-1, 6-3 victory was Kvitova, who not so long ago was within two wins of becoming world number one herself was only briefly in the match at all.

That was when she started the second set by following a break of Jankovic's serve with one of only two holds of serve she managed in the entire match, and reached 2-0 and then 3-1.

That was the last game Kvitova won.

"I am very consistent and that is what I am trying to do against the top players," said Jankovic.

"You have to be at the top of your game if you want to beat players like this.

"I have been working very hard," continued the 29-year-old who has also been making steady progress in the doubles.

"I practise hard and do a lot of stretching and I enjoy it."

Kvitova by contrast looked jaded. Her footwork was sometimes slow and her focus appeared to vary, as evidenced by a sudden spell of brilliance in the final game as her survival instincts kicked in and four match points were saved.

She may have been affected by having played two very hard three-setters - with her friend Lucie Safarova, and with Venus Williams against whom she saved a match point - but the outcome could have ranking repercussions as she has winner's points to defend next week in Dubai.

For Jankovic the victory was further confirmation that her 2013 recovery is continuing.

Injuries caused her to fall to 34 in the rankings at one point and she spent much of 2012 outside the top 20.

She has rebuilt not only her body but her game, with a more forceful service.

Now she has a semifinal with Angelique Kerber, the sixth seeded German, with a chance of climbing from her current ranking of eight.

Kerber's progress came with almost embarrassing ease, by 6-0, 6-1 against the heroine of yesterday, Petra Cetkowska.

It lasted a mere 50 minutes and the Czech player seemed to have been drained by her efforts over two and three-quarter-hours in beating Li Na, the top-seeded Australian Open champion from China.

"The mental part is very important, and I try focusing from point to point and stay in the moment, which I think helps me to win matches like that," Kerber said.
Follow Emirates 24|7 on Google News.