Dubai Tennis: Kvitova knocks out title holder Radwanska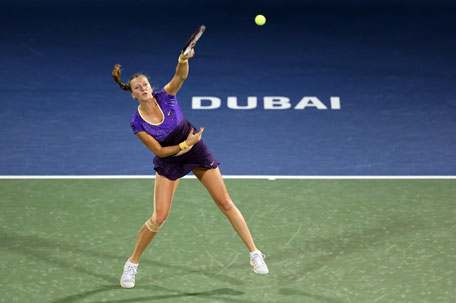 Defending champion Agnieszka Radwanska surrendered her title at the Dubai Duty Free Tennis Championships on Thursday when she was defeated 6-2 6-4 by Petra Kvitova.

The 2011 Wimbledon champion was the first to hold serve to lead 4-2 and she broke Radwanska again before serving out the set. In the second set, Kvitova failed to convert an early break point and fought off four break points herself to hold for 2-2 before earning a decisive break to lead 4-3.

Radwanska still refused to concede without a fight and held a break point to level at 4-4, but Kvitova held off the challenge and moved on to reach her first Dubai semi-final.

"I think to beat Agnieszka here, it means something more because she's defending champion," said Kvitova. "I wanted to win and play this game what I played. It's aggressive game and going for the balls harder. I think that was the key, to play an aggressive game today."

Radwanska was disappointed to lose her title and agreed that her opponent's aggressive play was difficult to deal with. "I played okay, but, you know, I think it was just not good enough," said Radwanska. "She's top 10 player, so you really have to play very good to beat those players. Good is not enough.

"In the beginning I didn't really know what was going on. Then in the second set unfortunately it was too late."

Wozniacki emerged from a very high quality match against Marion Bartoli with a 4-6 6-1 6-4 victory. Although she led 4-2 in the opening set Wozniacki allowed Bartoli to win the next four games and the set before rebounding. Even then, she failed to serve out the match at 5-2 in the third set as Bartoli broke her serve to love.

"It was disappointing to lose that first set after I had been up, and I really felt like I should have won that," said Wozniacki after her marathon two hour 32-minute triumph. "But then to turn it around and really play good and play aggressively.

"In the third set, down 2 Love, could have been 3 Love and all of a sudden it's not looking too good, but I just kept fighting and every game was close but I ended up winning it."

Although she lost, Bartoli knew she had played a big role in a great contest.

"I'm really happy with my performance," she said. "I think it was really a great match. Sometimes you still lose these kind of matches, but I haven't felt that good on a tennis court for a long time."

Roberta Vinci also reached the semi-finals when she upset seventh seeded Samantha Stosur 6-2 6-4 to earn a clash with friend and doubles partner Sara Errani.

Stosur struggled right from the start, dropping her serve in the opening game after leading 40-15. She then failed to convert a break point to level at 2-2 and was caught off-balance when Vinci attempted to lob her and put a forehand long to fall behind 5-2.

After Vinci served out the first set Stosur staged a brief fightback in the second to lead 2-0. But Vinci immediately broke back and a further break for 4-3 left her firmly in control.

"It was a great match for me, great performance," said Vinci. "I play a good game also today like yesterday. I play aggressive, I play so good. She has a great serve, great kick serve. For me was difficult to return because I have also one hand backhand, but I play good."

Fifth seeded Errani had to fight hard for a 6-4 0-6 6-3 win over Nadia Petrova in another marathon battle that lasted two hours 31-minutes. There were two remarkable games, with one stretching to 24 points and another to 26.

Errani broke to lead 2-1 in the first set but then needed seven game points to hold her serve to lead 3-1. Petrova, who won just one of 10 break points in the opening set, then dominated the second after Errani failed to hold any of six game points in a 26 point second game.

The final set remained finely balanced as Errani edged her way to victory, winning four of the first six games and breaking serve for victory.

"Well, it was very tough," said Errani. "I tried to recharge a bit of battery, and in the third I tried just to be more aggressive, more concentrate, and tried to show her that I was not tired."

The Dubai Duty Free Tennis Championships, which continues until March 2, is owned and organised by Dubai Duty Free and held under the patronage of His Highness Sheikh Mohammed bin Rashid Al Maktoum, Vice-President and Prime Minister of the UAE and Ruler of Dubai.

Tickets for the event are on sale from the Box Office at the Dubai Tennis Stadium, Garhoud which is open from 9am to 9pm daily. Grandstand ticket prices range from Dh50 for opening rounds to Dh450 for finals.

For further information about tickets, prices and the tournament visit dubaidutyfreetennischampionships.com or phone the call centre on +971 4 4172415.

Follow Emirates 24|7 on Google News.