Dubai Tennis semifinals: Cornet stuns Serena to enter final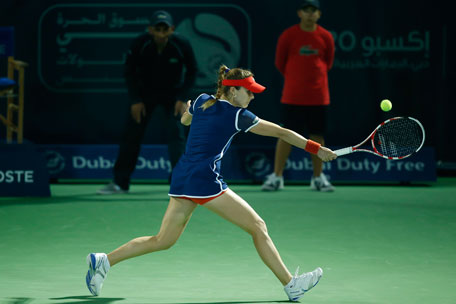 Alize Cornet stunned world number one Serena Williams 6-4 6-4 on Friday to book a place in the final of the Dubai Duty Free Tennis Championships and earn a clash with former two-time champion Venus Williams.

Venus reached her second final of the year by overcoming 2011 Dubai winner Caroline Wozniacki 6-3 6-2.

"We enjoyed two fantastic semi-finals," said Tournament Director Salah Tahlak. "Serena Williams has once again failed to add the Dubai Duty Free Tennis Championships title to her lengthy list of achievements, having now lost at the semi-final stage in all three of her appearances here.

"Alize Cornet has surprised us with her wonderful play all week, and she will be a worthy opponent to Venus Williams in what is certain to be a fantastic final."

Cornet, who only received a place in the main draw when Svetlana Kuznetsova withdrew with injury, looked confident right from the start, and broke Williams's serve to lead 5-4 after the top seed had led 40-15.

She served out the first set and then started the second by breaking the Williams serve again, and although Williams levelled at 2-2 Cornet earned a further break to lead 4-3. She then held four match points on Williams's serve at 5-3 before serving out the match at love.

"I was so excited about this match coming up to tonight, and now that I beat Serena it's a dream come true," said Cornet. "It's definitely the biggest win of my career.

"I did it in such a good way, such a good match. Very, very strong and smart till the end. I didn't try to be more powerful than her, because, anyway, it's impossible. I just tried to play with my weapon. Wow, 6- 4, 6- 4. I didn't expect that definitely, and I'm really, really happy and proud of myself."

Serena offered praise to her opponent but put the blame for her defeat firmly on herself.

"She played really well. You know, she played a solid match," said Serena. "I just, you know, I didn't play today. I tried, though. I just kept hitting errors. I don't think I have made that many errors in a match in I think at least three years, maybe four years. Today just wasn't my day. I haven't felt good this whole week, to be honest, just from my first match."

Venus, who also contested the Auckland final last month, was far too powerful for Wozniacki, and although her fragile health means that she can lack energy at times she has thrived on her demanding schedule this week.

"Back-to-back matches I don't think are easy for anyone, but for me in general I need back-to-back matches. I feel like I've just gotten so much better since my first round to now, just feeling comfortable on the court, feeling comfortable when I'm behind, feeling comfortable when I'm in the lead," she said.

"Caroline is an intense competitor. She has been since the very first match I played her like 2007. Seven years ago. She's reached the pinnacle of the game, so she knows what she's doing. So it feels good to, you know, to be able to get that win today."

Wozniacki admitted that she had not felt comfortable or able to find a way to overcome her determined opponent.

"It was quite tough out there, and I started off a little bit tentative," she said. "I didn't really feel like I could go out and play what I wanted to play. Once I got going, she started to play better as well.

"It was kind of uphill today, and she, you know, like I was expecting, she went in and was serving good first serves especially when she needed them. She got the angles going, so even when I was behind the baseline she made me come in and then played it on my feet."

"While almost everyone was expecting Serena to join her sister in the final of the Dubai Duty Free Tennis Championships, Alize Cornet clearly had a different idea," said Colm McLoughlin, Executive Vice Chairman of tournament owners and organisers Dubai Duty Free. "Her performances this week have been remarkable, and it was wonderful to see the unbridled joy she felt in overcoming the world number one.

"It is also very satisfying to see Venus Williams playing so well again. It will be interesting to see if she can become only the second player after Justin Henin to win three titles here."

Despite her defeat, Wozniacki has once again enjoyed her stay in Dubai.

"I love that the hotel and the courts are in one big complex," she said. "It makes it very easy for us players and not having the travel time. And I think Dubai, in general, it's such a great place. So many nice restaurants, so many fun things to do. I definitely think that has a lot to do with it."

Serena too has been enthralled with what she has found here.

"I like Dubai. It's a great place to come," she said. "You know, what I like most about it is just the city. I go to a restaurant, and I see a guy and he's like, I'm from New York. And another guy, they are all staff, and he's from London. Another guy is from Nigeria. Another guy is from Asia. And it's an incredible mix of people from absolutely everywhere in the world. It is a beautiful, beautiful thing. Everyone is just treated the same, so it's just great. I love it."

In doubles action Alla Kudryavtseva and Anastasia Rodionova overcame Andrew Hlavackova and Lucie Safarova 6-4 ,6-4 to move into the final, where they will meet Raquel Kops-Jones and Abigail Spears who knocked Flavia Pennetta and Samantha Stosur out with a 6-3 7-5 victory.

After Saturday's final, play continues between February 24 and March 1 with the action-packed ATP tournament that includes defending champion Novak Djokovic, five-time winner Roger Federer, recent Australian Open semi-finalist and last week's Rotterdam winner Tomas Berdych, former US Open winner and recent Sydney champion Juan Martin Del Potro, and charismatic Frenchman Jo-Wilfried Tsonga.

The Dubai Duty Free Tennis Championships is owned and operated by Dubai Duty Free, and held under the patronage of His Highness Sheikh Mohammed Bin Rashid Al Maktoum, Vice-President and Prime Minister of the UAE and Ruler of Dubai.

For further information about tickets, prices and the tournament visit www.dubaidutyfreetennischampionships.com or phone the call centre on +971 4 4172415.

CORNET WINS

France's Alize Cornet beat a despondent Serena Williams 6-4 6-4 in the semi-finals of the Dubai Championships on Friday in what the world number 26 described as the biggest win of her career.

Cornet's heroics have earned her a final appearance against Venus Williams, Serena's older sister, who earlier trounced Denmark's Caroline Wozniacki 6-3 6-2 under a fading desert sun.

Few in the Aviation Stadium crowd would have given Cornet, who had lost her previous three meetings against Serena, much chance of denying the Williams sisters a first tour final against each other since 2009.

But the Frenchwoman was unbowed as she slugged it out from the baseline against the world number one.

"This is the biggest win of my career," Cornet said in a courtside interview. "I had to forget about Serena on the other side of the net and concentrate on my own game. I tried to play very deep and stay focused."

The first eight games went with serve before Williams scuffed a forehand long to give Cornet the first break of the match and the opportunity to serve for the first set.

The 24-year-old made no mistake when her moment came, leaping to play a baseline backhand winner down the line to claim the set, then punching the air as the crowd bellowed her name.

Cornet was energetic while Williams looked lacklustre as the 17-times grand slam singles champion committed a series of rudimentary blunders.

"I'm a wee bit embarrassed," Williams, 32, told reporters. "I don't think I have made that many errors in a match in I think at least three, maybe four years. Out of 10, I was like a minus 283.

"I started out extremely slow. I need to be able to play better than that if I want to be playing on the professional tour. Maybe I can go to amateurs," joked Williams after only her second defeat in 30 matches.

Her competitive fire did awaken after Cornet took a 2-0 second set lead. She let out prolonged roars with every winner as she surged to 3-2 ahead, the set now back on serve.

But Williams, playing her first tournament following a month out with a back injury, could not sustain that surge.

Cornet broke again for a 4-3 lead with a drilled forehand down the line past Williams, who was stranded at the net.

Serving to save the match at 5-3 down, Williams saved four match points to hold eventually.

Yet Cornet was undaunted and served out the match to love after Williams shanked a cross-court backhand long.

Cornet seemed overwhelmed, skipping in delight across the court, although she said she was calm at the last end change.

"I said 'OK you are a big girl you can do it'. I was trying to relax," she added.

VENUS WINS

Earlier, world number 44 Venus Williams made it five wins out of five against Wozniacki in an error-strewn encounter as six of the first nine games went against serve.

Wozniacki, 23, had been in scintillating form in Dubai, dismissing Wimbledon finalist Sabine Lisicki in the first round and not dropping a set thereafter, but Williams' ground strokes proved too potent.

The seven-times grand slam champion claimed the first set after a deep return forced Wozniacki into scuffing a forehand into the net.

Williams, 33, cranked up the pressure in the second set, racing into a 3-0 lead.

Wozniacki, who topped the year-ending rankings in 2010 and 2011 but has since reached only one grand slam quarter-final, put up little resistance, ceding the match with another forehand into the net.

Williams has yet to drop a set in Dubai, beating four higher-ranked opponents along the way including former French Open champion Ana Ivanovic.

"I feel like I've just gotten so much better since my first round to now, just feeling comfortable on the court, feeling comfortable when I'm behind, feeling comfortable when I'm in the lead," said Williams, who has struggled for form since she was diagnosed with an auto-immune disease in 2011.

"It reminds me a lot of when I first came on tour ... I feel like I'm learning lessons all over again."

SECOND SEMIFINALS

SECOND SET: CORNET 6 SERENA 4

What a victory for Cornet. She has been stunning all through the game and she deserved to win this. Three match points and she gets the first one to take the game, set and match. Serena 4 Cornet 6

Exceptional display of tennis from Cornet but misses four match points as Serena handles pressure well to hold on to her serve. Cornet serves for the match. Serena 4 Cornet 5

Cornet holds on to her serve. This is amazing stuff as Serena looks to be losing the grip again. Serena 3 Cornet 5

BREAK! A crucial blunder followed by a Serena's challenges for her own good serve and that was enough for Serena to lose focus and hand over the game to Cornet. The French lady is seriously putting up a great fight. Serena 3 Cornet 4

Cornet manages to hold on to her serve. But certainly not as easy as it was in the earlier games. Serena 3 Cornet 3

Serena suddenly seems to have woken up. She is playing a totally different game here as she packs of the game easily. Cornet is just left wondering. Serena 3 Cornet 2

BREAK! Serena showing her amazing form. what a comeback that is. Wins four straight points to take the break. That should worry Cornet. Serena 2 Cornet 2

Serena manages to hold on to her serve but not quite the way she wanted. Cornet is giving her tough times as she takes it to deuce. Serena 1 Cornet 2

Serena seems to be losing her way. Not getting the simple shots right as Cornet wraps it up comfortably. Serena 0 Cornet 2

BREAK! Cornet in command as she takes three breakpoints and takes the first one to force an early break. Serena is amazingly calm despite the troubling form. Serena 0 Cornet 1

FIRST SET : CORNET 6, SERENA 4

The pressure seems to be taking on Serena. Too many unforced errors at the start but Serena does everything to comeback winning two points but it does not help as COrnet wraps the first set with a beautiful winner. Huge cheers from the crowd. Serena 4 Cornet 6

BREAK! Cornet is making Serena work hard for her points forcing the game to deuce. Earns her first break point of the match and wins it. Cornet on a high here. Serena 4 Cornet 5

Some stunning tennis from Cornet and Williams was just a mere spectator. Cornet takes the game not losing a point. Serena 4 Cornet 4

Serena's serve reaching 180km to start of her game and then doesn't drop a point to win the game easily. Serena 4 Cornet 3

Cornet is matching it up with Serena generating the same amount of power. But Serena tries to earn the crucial points before cornet wraps it up to hold on to her serve. Serena 3 Cornet 3

That's another easy service game for Serena. Hardly dropped a sweat there to wrap the game in four straight points. Serena 3 Cornet 2

Cornet is showing a lot of character. Williams is overpowering the French gal with sheer power, that saw the game head to deuce but Cornet has the last laugh. Serena 2 Cornet 2

Four straight points with some luck for Serena and she wraps the game hold on to her serve. Cornet has to tighten up things if she is looking for an early break. Serena 2 Cornet 1

Cornet replies in the same grit to take her first game comfortably. Serena 1 Cornet 1.

Effortless win for Serena though she dropped two points. Serena has a 3-0 game record against Cornet. Serena 1 Cornet 0

Serena prepares to serve. Not guessing it to be a nerve-wracking one though.

FIRST SEMIFINALS

SECOND SET: WILLIAMS 6 WOZNIACKI 2

BREAK! Williams is too strong for Wozniacki as she seal earns the break to win the game, set and the match in straight sets. Williams 6 Wozniacki 2

Wozniacki putting up a spirited fight here but wastes a great chance. Gets herself three breakpoints with some fine display of tennis. Williams determined to not let go the advantage fights back to take it to deuce before wrapping up the game in style. Williams 5 Wozniacki 2

Wozniacki holds on her service. Williams having done the job early is going a little easy. Williams 4 Wozniacki 2

Not an easy game for Williams but she should be happy with the fact she won it from 30-all. Williams 3 Wozniacki 0

BREAK! Wozniacki seems to be giving it away. Too many unforced errors, which she really can't afford at this stage of the match. Williams with two breakpoints seals it off in the first to take the lead. Williams 2 Wozniacki 0

It's easy start to the second set as Williams wins her first game just losing a single point. Williams 1 Wozniacki 0

FIRST SET: WILLIAMS 6 WOZNIACKI 3

BREAK! Does make some unforced errors but is composed when it mattered to win a breakpoint, but Wozniacki produces a great backhand shot to the far corner to save it. A strong display of power before Williams holds her nerve to win the game and the first set. Wozniacki 3 Williams 6

BREAK! That's a spirited comeback from Wozniacki. Long rallies does not deter her as she outplays Williams without losing a point. Williams misses a chance to serve for the first set, but she still has a good chance to win it easily. Wozniacki 3 Williams 5

BREAK! Wozniacki has no answer to the stunning shots Williams is producing but still manages to catch up from a 15-40 lead to take it to deuce. But nothing to stop williams as she gets the next two points to take a strong lead. Wozniacki 2 Williams 5

Great show from Williams. Power-packed serves and Wozniacki has no answers to them. Just manages to grab one point before Williams seals it. Wozniacki 2 Williams 4

That's another break. Williams is quick to bounce back. williams has been playing some amazing forehand and backhand shots. Wozniacki 2 Williams 2

BREAK! Wozniacki is coming back strong as she breaks back to level the games. Wozniacki 2 Williams 2

Two good winners took Wozniacki to 30-0 before Williams fought back to level it. But Wozniacki had the last laugh to wrap it quite comfortably winning the next two points. She is serving well. Wozniacki 1 Williams 2

Williams wins her game but not before some dramtic comeback from Wozniacki. Winning three points in a row Williams had it very easy but Wozniack won the next three to take it to deuce before Williams managed to get two straight points to wrap the game.Wozniacki 0 Williams 2

BREAK! Williams gets a breakpoint early in the match. Wozniacki settling in slowly. Gets a superb ace to save the breakpoint. But Venus again manages to win three advantages to take the first game. Wozniacki 0 Williams 1

Both Wozniacki and Williams in the centre court as they warm up. Promises to be an interesting match. The weather is awesome for tennis. The gallery slowly filling up.

PREVIEW

All eyes will be on the Williams sisters Venus and Serena in the semifinals of the Dubai Duty Free Tennis Championships on Friday.

Venus reached her fourth Dubai semifinal with a 6-3, 7-5 win over qualifier Flavia Pennetta of Italy.
She will now face 2011 champion Caroline Wozniacki, who overwhelmed Sorana Cirstea 6-1 6-2 in just 62 minutes.

Although not guaranteed, Venus Williams wasn't opposed to thinking ahead to the possibility of an all-Williams final on Saturday.

"It would be fantastic," Venus said. "But we both have to get there."

Serena, playing in her first tournament since a fourth-round loss at the Australian Open, dispatched fifth-seeded Jelena Jankovic of Serbia 6-2, 6-2 in the quarter-finals.

Serena will play Alize Cornet of France in the semifinals.

"Serena Williams played like the world number one that she is, and Venus Williams yet again showed us the qualities which have made her one of the greatest champions of this decade," said Colm McLoughlin, Executive Vice-Chairman of tournament owners and organisers Dubai Duty Free.

The Dubai Duty Free Tennis Championships is owned and operated by Dubai Duty Free, and held under the patronage of His Highness Sheikh Mohammed Bin Rashid Al Maktoum, Vice-President and Prime Minister of the UAE and Ruler of Dubai.

Follow Emirates 24|7 on Google News.