Dubai Tennis Women's Final: Venus beats Cornet to lift Dubai title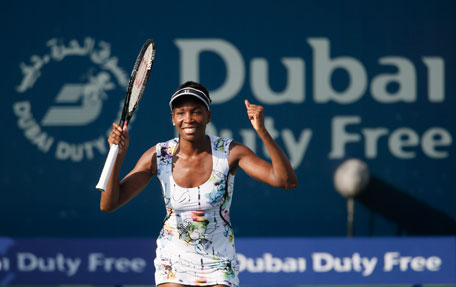 Venus Williams crushed Frenchwoman Alize Cornet 6-3 6-0 in the final of the Dubai Championship on Saturday, the veteran American bagging her first singles title since 2012.

The seven-times grand slam winner made light work of Cornet who stunned Venus's sister Serena on Friday to deny the siblings their first final meeting in five years.

"I think the difference between me and Serena was I put a few more balls in the court," said Venus who has struggled for form since being diagnosed with a fatigue-causing disease in 2011.

"Winning all those grand slam titles, playing deep and getting to the final so many times, it takes a lot of nerve, mental prowess, so I'd like to think I'm on that path," she told reporters.

Williams, 33, has made a mixed start to 2014, suffering a first-round exit at the Australian Open and more disappointment in Doha last week.

She did not drop a set in Dubai, though, and beat five higher-ranked opponents including former world number ones Ana Ivanovic and Caroline Wozniacki.

"When things got tough I definitely got going this week. If I was down break point, when push came to shove I was pushing and shoving," added Williams who will climb from 44th in the world back into the top 30 for the first time since May 2013.

"I'm not looking to do anything I did in the past because I already did that. I'm looking to improve and be a better, smarter Venus."

SUCCESSIVE ERRORS

The American started slowly against Cornet, who hugged the baseline just as she did against Serena to take the first break of serve and go 2-1 up after Williams made successive errors, the first a loose volley at the net and the second a long forehand.

The setback stirred Williams and she broke back immediately with a ferocious return before surging into a 5-2 lead by breaking again.

Cornet, 24, showed her despair as she wilted under a barrage of brutal groundstrokes from her opponent.

"The first set was very important. That's why I was a bit emotional because I wanted to do better," said the Frenchwoman.

"She was playing more aggressive. She was pushing me out of the court very far from the baseline and I didn't play as deep as yesterday, didn't serve as well."

Cornet saved two set points when serving at 2-5 only for Williams to comfortably serve it out, dragging the world number 26 out wide with a fierce backhand that she could only scuff into the ground.

A double fault and a wild forehand on successive points gave the American another break at the start of the second set and she broke twice more for a 5-0 lead.

Cornet saved one match point with a backhand volley lob before a long forehand gave Williams a 45th career title and a third Dubai crown.

That's it. It's all over in less than an hour and a half. Venus Williams takes the third title in Dubai but not before fighting off a stiff challenge from Alize Cornet, who even had a break point, to win in straight sets 6-3 6-0.

Venus serving for the championship. Should be an easy one for her.

BREAK! Venus is proving to be superior here. No mistakes at all as she is testing Cornet to the limit. It looks to be all over for the French lady. Cornet 0 Venus 5

Cornet is not bowing down easily. She is putting up a fight but is lacking consistency. Was up two break points before she blundered to force it to deuce. Venus makes good use of the advantage to wrap the game. Cornet 0 Venus 4

BREAK! Cornet seems to be losing steam. She has no answers to the powerful shots from Venus as the American wins her second break. Cornet 0 Venus 3

Venus in total control of this game as she wraps the game comfortably. Cornet 0 Venus 2

BREAK! Early break for Venus. Tennis at its best at the centre court in Dubai Tennis Stadium. Venus is using all her power to keep Cornet guessing but the French girl is responding amazingly well. Game lasts close to 10 minutes before Williams wraps it up in the second breakpoint. Cornet 0 Venus 1

FIRST SET: VENUS 6 CORNET 3

Venus takes the first set but not before she is made to sweat for a while. Cornet put a fight but not good enough. Venus 6 Cornet 3

Cornet fights back two break points to still stay in the first set. Venus 5 Cornet 3

Venus is complete control of the first set here. Wins her game without much fuss. Venus 5 Cornet 2

BREAK! Cornet seems to be disillusioned at the moment. Venus is giving her no room to gain an upperhand as she earns two breakpoints. Takes the first one to win another break. Venus 4 Cornet 2

Venus is getting better and better as the match progresses. Some stunning serves and forehand shots, Venus seals the game easily. Venus 3 Cornet 2

BREAK! It's sheer power from Venus. She is making Cornet run all over the place. From 30-0 Venus wins four straight points to get the break. Venus 2 Cornet 2

BREAK! Some power-packed baseline tennis from both the players. Venus gets two aces during the game but that does not deter Cornet as she drags it to deuce. A crucial double fault, and Venus does not recover to hand over the game. Venus 1 Cornet 2

Cornet responds in similar fashion except for one unforced error. Venus 1 Cornet 1

Venus serves first and takes her first game without much of a challenge. She is serving great and covering the court really well. Venus 1 Cornet 0

This surely is going to be the biggest final for Cornet to have ever played. Having already beaten the younger Williams, she should be full of confidence.

Both the players are in the centre court. The spectators cheer as they enter. Preparing themselves for the warm-up.

The final can be a cracker of a contest, especially looking at the ways the semifinals was played.

While Alize Cornet surprised Serena Williams 6-4 6-4 in the semifinals, Venus had a relatively easier path to the final defeating Caroline Wozniacki 6-3 6-2.

On paper, Cornet is ranked higher than Venus but the way the elder william sister has fought her way into the finals looks she is back to her best.
Follow Emirates 24|7 on Google News.