Federer claims 1,000th win with Brisbane crown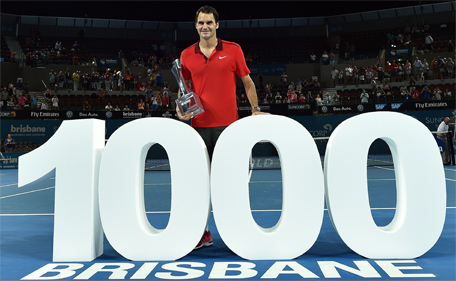 Roger Federer brought up his 1,000th victory at tour level in style Sunday when he beat Canadian Milos Raonic in three tough sets to win the Brisbane International.

Federer was forced to absorb some superb shotmaking and blistering serves from the 24-year-old before winning 6-4, 6-7 (2/7), 6-4 in two hours and 13 minutes at the Pat Rafter Arena.

Federer's glittering career now includes 83 singles titles, including 17 Grand Slams, since his first victory over Frenchman Guillaume Raoux in Toulouse in 1998.

The 33-year-old is third on the all-time list for matches won, behind Jimmy Connors (1,253) and Ivan Lendl (1,071).

"To get to 1,000 wins in front of you two greats means a lot to me," Federer said, describing it as a "special day".

"I'll never forget this moment," he added as he was presented with his Brisbane International trophy by Roy Emerson, as well as a special award for his 1,000th win by Rod Laver.

"It feels very different to any other match I've ever won, because I never thought about anything reaching 500 or 800.

"All those numbers didn't mean anything to me, but for some reason 1,000 means a lot because it's such a huge number. Just alone to count to 1,000 is going to take a while."

Federer's big win was not a foregone conclusion. Raonic played so well that for long periods during the second and third sets it looked like the milestone would have to wait until next week's Australian Open.

But serving at 4-5 in the third set the Canadian faltered, giving Federer championship point with a double fault, before a forehand into the net ended the contest.

Federer said the nature of the match made the 1,000th win even sweeter.

"Looking back it's almost nicer winning this way through a tight match with nerves and humid conditions against a great player in a final," Federer said.

"It means so much more than just running away with it with the score maybe winning 6-4, 6-4, which was looking very likely at one stage.

"I guess I was much more happy having to go three sets in the end rather than winning in straight."

Raonic is one of the biggest servers in the game but in the final he was outserved by Federer, who sent down 20 aces to Raonic's 12.

Federer began strongly and pressured Raonic, taking advantage of a lapse in the Canadian's second service game to secure the only break of the first set.

The top seed broke Raonic at the start of the second set then held to go ahead 2-0, his tactic of standing well up to receive the Canadian's huge serve paying dividends.

But Raonic began to find his range with his punishing groundstrokes and put the set back on serve when he broke back two games later.

Federer jumped out to a 2-0 lead in the tiebreak. But Raonic then won the next seven points to level the match at one set apiece with a succession of superb groundstrokes and brilliant serves.

Raonic carried the momentum into the third set, but Federer absorbed the pressure then began to attack.

Federer had two break points in the fourth game and Raonic two in the fifth, but neither was able to convert.

Federer had two more chances to break in Raonic's next service game but again the Canadian held on with a succession of booming serves over 220 kilometres an hour.

However, just when it looked like a second tiebreak would be needed to decide the match, Raonic stumbled and Federer swooped to victory.

Raonic remained upbeat after the match, saying the performance him great confidence leading into the Australian Open.

"I gave myself an opportunity to be in a final here against one of the best players in the world and gave myself a pretty good opportunity to win," he said.

"I feel like I'm just going to get better over the next eight or nine days."


Follow Emirates 24|7 on Google News.