Federer targets return to top spot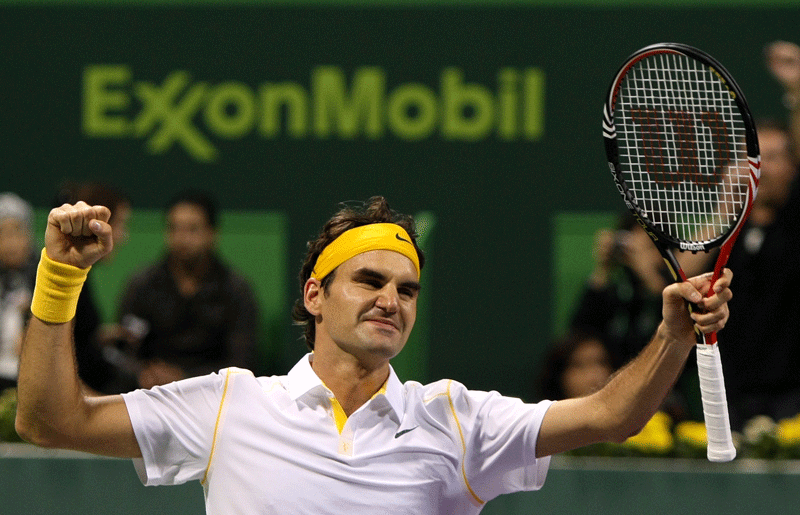 Federer has set his sights on a return to the world number one spot after demolishing Nikolay Davydenko to capture a third Qatar Open title and 67th career crown.
Federer, who will defend his Australian Open title from January 17, eased past his Russian opponent 6-3 6-4 and immediately pondered regaining the world number one ranking from Rafael Nadal in the opening months of the season.
"Rafa has a lot of points to defend but at the same time he's very confident," said Federer.
"It's going to be really difficult, but if I keep playing at the level I have here, and playing only finals as I have lately, I feel like I have a chance. But I have to keep it up.
"You have to have something special to become world number one. But I'm prepared for that."
Davydenko, who had been the defending champion in Doha and had knocked out a fever-hit Nadal in the semifinals, believes Federer has a great chance of taking top spot.
"Federer never played better against me than today. He was fantastic, made so many fast points and was very difficult to play. If he holds to this level for the year he can be number one again for sure," said the Russian.
Saturday's win here was Federer's 15th in 17 meetings with Davydenko as he became the first man to win the Qatar title three times after succeeding in 2005 and 2006.
"It feels fantastic," said world number two Federer.
"I have had a good week. I really appreciate the support I get here. I have had good preparation. I can't believe that I am on the board already this year.
"This was a strong tournament and I'm looking forward to the rest of the season."
When Davydenko beat Federer here last year, he had not long come from the biggest triumph of his career - winning the ATP Championships year-end title in London, and he was still on an emotional high.
This time he is re-starting from a season in which he has battled a persistent wrist injury, and slipped out of the world's top 20 for the first time in more than five years.
However Davydenko does look to be playing to a top 10 standard, and after being gifted a win over a sick Nadal was clearly keen to make some sort of a mark.
But it was difficult to do that.
Federer started superbly, not only because he grabbed an immediate psychological advantage with an early break and a 3-0 lead, but because he launched into heavy pressurising attacks straight away.
Blocked returns, slices, and containment rallying were replaced by risk-taking as Federer sought to take charge, something which may be a prototype for a change of emphasis in his attitude in his 30th year.
He soon found that on this occasion his timing was in more than good enough nick to achieve that, and four heavy attacks, with a volley, two forehand drives and a backhand, Davydenko was broken to love.
Even though it meant more time scuttling around retrieving than he really likes, the Russian then kept himself in the fight with three holds of serve, with Federer still looking imperious.
On the third of these Davydenko managed to save six set points, four of them with excellent serving, but although his reprieve was bravely earned it was brief.
Federer closed out the set with a serve of relaxed power, a drive of easy weight, and a stroll as lazy as though had another two gears in reserve.
Davydenko was able to disprove this image by winding himself up to even greater efforts.
He held more comfortably in the second set, and twice unsettled Federer in the sixth game, first driving hard and early enough to force him into sliced defence, and then running down a Federer drop shot and planting it defiantly past the Grand Slam record-holder
But it only got him so far. The crucial thrust came in the ninth game when Federer hit such a crunching backhand winner down the line that Davydenko felt pressured into over-stretching and double faulted for love-40.
Federer took that chance immediately and finished the match without fuss having won 10 points in a row.
Follow Emirates 24|7 on Google News.