Hardcourts great Wimbledon tune up: Wozniacki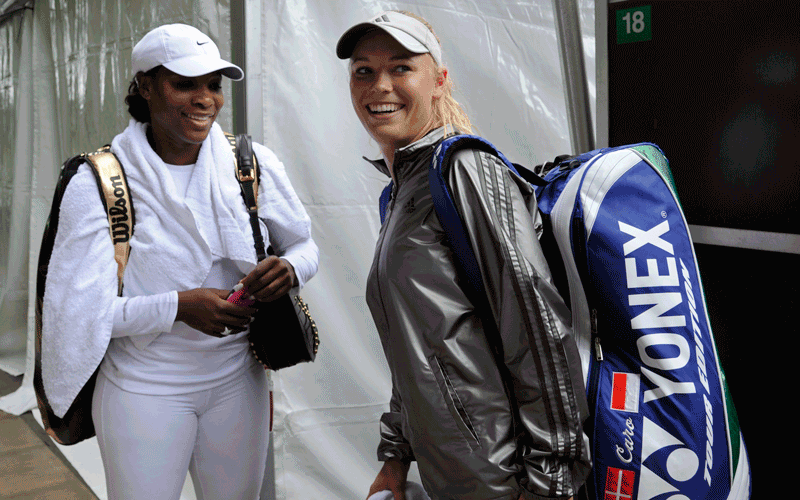 Caroline Wozniacki raised a few eyebrows when she opted to tune up for Wimbledon by competing at an indoor hardcourt tournament but the Danish world number one was quick to explain what she hopes will be a winning formula for the grasscourt major.
"I think it was a great preparation because to change from clay to grass straight away is pretty drastic, so I chose to take the middle way and go to hardcourt and from hardcourts to grass and it feels good," the 20-year-old told Reuters in an interview on the eve of Wimbledon. While most of the world's top women competitors gathered at various grasscourt tournaments in England and Netherlands following the French Open, Wozniacki hopped back home to play in Copenhagen.
Apart from the world number one, the Danish Open failed to attract any other top 30 player -- suggesting that a hardcourt tournament in the middle of the grasscourt season had little appeal for other Wimbledon contenders. But following the rest of the pack has little appeal for Wozniacki.
Earlier this year she turned up on court at the Qatar Open in a Liverpool shirt signed by soccer player Steven Gerrard, and on Saturday she announced she was a reporter from "the Monaco newspaper on Avenue Princess Grace" as she hijacked Novak Djokovic's news conference and grilled him for a few minutes.
After being turfed out of that conference by a red-faced WTA official, she explained why she was comfortable with her decision to play in Copenhagen, where she won the title without dropping a set. "No I didn't (think it was a gamble to play in Copenhagen). I really feel comfortable and confident on the grass. I've gotten a week of practice here so I feel good," said Wozniacki, whose best run at Wimbledon is two fourth-round showings. "I know I can play really well on grass. I've won Eastbourne before, I won the junior (Wimbledon) title. I know that I can play really good tennis. "On grass it can be small things that decide a match and also the serve and the returns are key points at this point. "I feel great. It's a great tournament, I really enjoy playing here, the atmosphere, the traditions, it's a fantastic event."
Follow Emirates 24|7 on Google News.