Healthy Nadal looks to scale rankings after injury hell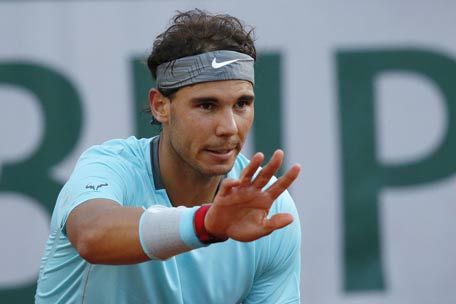 Rafael Nadal says he is driven to restore his slumping ranking after powering past Germany's Florian Mayer into the second round of the Australian Open on Tuesday.
The long-time world number one looked back to his healthy best after an injury-riddled 2016 as he tossed the 49th-ranked Mayer 6-3, 6-4, 6-4 in just over two hours on Rod Laver Arena.
Nadal will face Cypriot Marcos Baghdatis in the second round.
The 14-time Grand Slam champion is irked to be ranked at nine after occupying a total of 141 weeks at world number one during his storied playing career.
Now the 30-year-old is back to full fitness after recovering from a left wrist injury which dogged him during last year's French Open and forced him to miss Wimbledon and the ATP Finals in a frustrating second half of last season.
Nadal said his current ranking affected his confidence and he was focused on returning to the top rungs.
'Oh, yes, it makes a difference. Is much better be number one than number nine. Is no question about that,' he said.
'But I am number nine today. That is just the real thing. Today I'm the ninth player of the world.'
'I am going to fight to not be worse, and I going to fight to be again better. I feel that if I am playing well and I am healthy, I think I can be much better.'
'I am happy with the way I have had the chance to play for a long, long time in this sport. I expect to keep playing for few more years.'
Auto pilot
Nadal said at his peak things became automatic when winning matches and he was looking to retrieve those instincts this year.
'When you are playing and playing and winning matches, then you have things that come very automatic,' he said.
'You don't need to think much about the things that are happening or the way that you play points.'
"But when you are out for a while, you need to recover all these automatic things that makes you play easier.
That's the important thing."
Nadal looks well on the way to regaining winning confidence, returning to the Australian Open where he was dumped out in the first round last year by compatriot Fernando Verdasco in a five-set boilover.
There was no likelihood of a repeat ambush by Mayer this time.
'Today was not an easy match. I had the break in the third and in the second set in the key game, at 4-all,' he said.
'But before he was serving well, so I didn't have the possibility to have the break.
'Today was a good first round for me. Florian is a tough first player to play against.'
Nadal is bidding to win his second Australian Open after beating Roger Federer for the 2009 crown.
His trademark never-say-die retrieving behind the baseline was a feature as he fought for every point against Mayer.
Nadal broke Mayer's service in the ninth game of the final set with a forehand winner and served out for a straight sets victory.
Follow Emirates 24|7 on Google News.