'Heavy' match-fixing in lower tiers, says anti-corruption official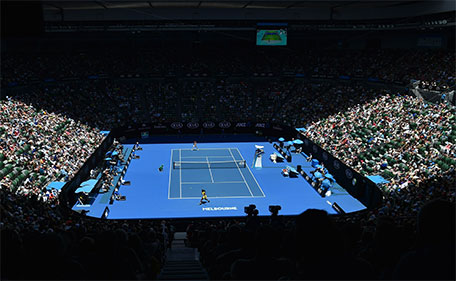 Match-fixing is commonplace in tennis's lower levels and efforts to fight it are inadequate, a senior anti-corruption official told AFP after cheating claims rocked the sport during the Australian Open.
After an explosive report claimed match-fixing was repeatedly going unpunished, Chris Eaton of the International Centre for Sport Security (ICSS) criticised tennis's "opaque and secretive" anti-corruption body.
The controversy is just the latest to hit the tainted sports world after claims of a doping cover-up shook athletics and multiple scandals engulfed football's governing body, FIFA.
Eaton, directory of integrity at the ICSS, said professional betting analysis showed "nil manipulation" of matches at the top levels of tennis, where players are highly paid and less susceptible to bribery.
"However in the second and lower levels, manipulation indicators are heavy and regularly occurring," the former FIFA security chief said via email.
"We are not the only sport integrity organisation to observe this."
Eaton's comments follow the BBC and BuzzFeed report that said 16 players who had reached the top 50 over the past decade had repeatedly been suspected of fixing matches, but never punished.
Three matches at Wimbledon had fallen under suspicion and at least eight of the "core group" of players on the fixing radar were at the Australian Open Grand Slam tournament, which began on Monday, it said.
Tennis authorities rejected any suggestion that evidence was suppressed and defended the workings of the Tennis Integrity Unit, which was set up in 2008 and has landed 18 convictions, including six life bans.
The BBC and BuzzFeed report's claims are backed up by anecdotal evidence including from Serbian world number one Novak Djokovic, who said he was once offered $200,000 to fix a match in Russia.
Retired American player Andy Roddick said a fellow former professional had told him he could probably name "at least 8-9" of the 16 suspected of repeatedly fixing matches.
Eaton said hundreds of thousands of dollars can be made by gamblers using accumulators to bet on the outcomes of multiple matches, a practice that is especially popular in eastern Europe and Russia.
It creates a powerful incentive to fix matches - something which is particularly easy to do in tennis, which has many poorly paid players and where it only takes one bribe to secure the desired outcome.
Eaton said tennis was the third most popular sport, behind football and cricket, for betting worldwide "and as a direct consequence it is third in the magnitude of identified suspicious matches".
"Tennis is not as lucrative for fixing as football or cricket. But it takes less corruptive effort to fix individual outcomes in a tennis match, so the frequency of winning on a single match can be vastly higher than in cricket and football," he said.
Eaton also hit out at the "poor choice of structure and process" for the Tennis Integrity Unit, saying it needs to be more open and relies too much on betting analysis, rather than field investigations.
"Integrity is by definition open and transparent. The TIU is neither... by operating in the shadows they fail to practice what they preach," he said, calling for a "new independent and integrated integrity model.
"If not, then tennis will continue to be targeted at its most vulnerable levels, and as intimidated or compromised players and others advance they bring that vulnerability with them."
His comments chime with top players Roger Federer and Andy Murray, who both said they were glad to see the issue of match-fixing brought to light and would like to see more details.
Follow Emirates 24|7 on Google News.