Match-fixing: Djokovic wins, faces questions over 2007 loss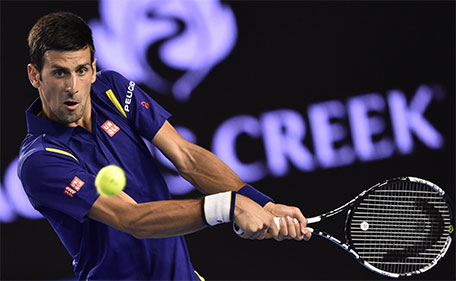 For the second time in three days, Novak Djokovic won a match at the Australian Open and was confronted by questions about match-fixing in the sport.

World number one Novak Djokovic has called for those making corruption allegations to provide proof after blasting as "absurd" an Italian newspaper which suggested he could have thrown a match.
"It's not true," the 28-year-old Serb told a tense press conference at the Australian Open when asked about the suggestion by Tuttosport newspaper about his 2007 defeat by Frenchman Fabrice Santoro at the Paris Masters.
The reigning champion, who eased into the third round with a 6-1, 6-2, 7-6 (7/3) win over French teenager Quentin Halys in Melbourne on Wednesday, described the current speculation about tennis as "absurd".
He said it would remain speculation until there is "real proof and evidence".
Tennis authorities have also strongly denied suggestions that evidence of corruption has been deliberately suppressed.
Tuttosport suggested that Djokovic could have deliberately lost to Santoro at the Paris Masters in 2007. Djokovic played then just after having had his wisdom teeth taken out.
"What it is to say? I've lost that match. I don't know if you're trying to create a story about that match or for that matter any of the matches of the top players losing in the early rounds, I think it's just absurd," said Djokovic.
"Anybody can create a story about any match. That's my point. There hasn't been too many matches where top players lost in (the) last decade or so in (the) early rounds.
"You can pick any match that you like that the top player lost and just create a story out of it.
"I think it's not supported by any kind of proof, any evidence, any facts. It's just speculation. So I don't think there is a story about it."
Djokovic's name was mentioned in an Italian prosecution investigation into illegal betting on football and tennis. Two Italian players were suspected of accepting bribes.
But the inquiry was officially closed in December.
The BBC and BuzzFeed News claimed on the eve of the Australian Open that 16 top players had repeatedly been suspected of involvement in fixed matches but never faced action.
Djokovic said earlier this week that he had been indirectly offered $200,000 to throw a first round match in St Petersburg in 2007 just before the Paris Masters. He said it was rejected and he did not go to the Russian tournament.
Djokovic said on Monday that tennis corruption was "a crime in sport" but he added at the latest press conference that much of the talk is speculation.
"My response is that there's always going to be, especially these days when there is a lot of speculations, this is now the main story in tennis, in (the) sports world, there's going to be a lot of allegations," he said.
"I have nothing more to say. I said everything I needed to say two days ago. You know, until somebody comes out with the real proof and evidence, it's only a speculation for me."
A host of former players have backed Djokovic and his fellow stars who have called for any evidence of alleged wrongdoing to be made public.
"We need facts, not suppositions," tweeted Martina Navratilova, a winner of 18 Grand Slam singles titles.
Follow Emirates 24|7 on Google News.