Nadal rallies to reach fourth round at ATP Miami Open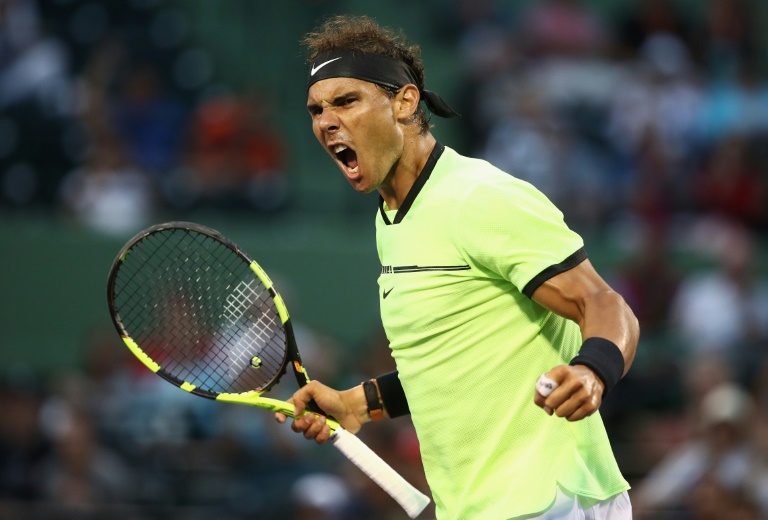 Rafael Nadal came back from an awful first set to defeat Germany's Philipp Kohlschreiber 0-6, 6-2, 6-3 and advance to the fourth round of the Miami Open on Sunday.
The Spaniard, playing his 1,000th ATP match, suffered just the 14th 0-6 set of his career, claiming just 33 percent of first serve points won and making a string of unforced errors.
After looking badly out of sorts, Nadal was able to rediscover his form in the second set and in the end ran out a comfortable winner.
Nadal said that there was little he could do against Kohlschreiber's outstanding play in the opening set.
"He was doing everything good. So that's sport, as I said hundred of times and when somebody is playing the way that he was playing the first set ... he was playing too good. That's it," said Nadal.
"The positive thing is I handled the pressure very well after a very tough first set. I resisted well the first few games of the second, and then I think I played a great second and third set," he said.
Nadal said the key to his comeback had been his ability to change the tempo and rhythm of the match.
"It was obvious that the points had been too quick. He was able to return so quick and to hit every ball as hard as he could. So I needed to play a little bit longer points.
"It's not about being more or less aggressive, it's about changing a little bit the position on the court. I went back on the return. I tried to play a little bit higher balls against his backhand.
"That happened ...and I think my serve worked so good in the second and third set," added Nadal, who next faces France's Nicolas Mahut. Mahut beat Argentine Guido Pella 6-4 6-3.
Follow Emirates 24|7 on Google News.