Nadal rekindles Federer rivalry in Doha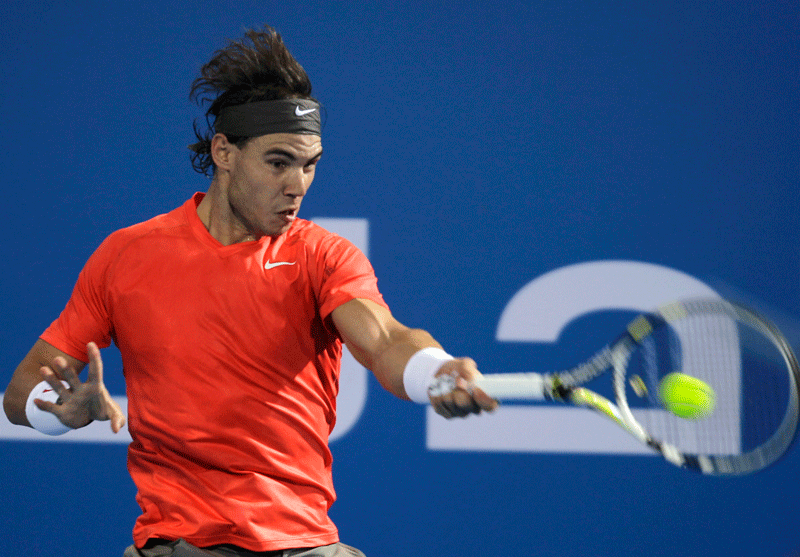 World number one Rafael Nadal will begin the new season which starts at the Qatar Open on Monday on a high after beating rival Roger Federer in the final of the Mubadala World Tennis Championship in Abu Dhabi this weekend.
The Spaniard arrives in Doha head and shoulders above the rest of field, more than 3,000 points ahead of world number two Federer and with three of the last four Grand Slam titles under his belt.
His hopes of winning the Qatar title for the first time have been boosted by the 7-6 (7/4) 7-6 (7/3) win over the Swiss in the final of the Abu Dhabi exhibition match on Saturday.
And the two are set to meet again next week when they are the top two seeds at the Qatar Open, which marks the start of the new season.
"For both of us, these are the first matches of the season. So it is special for us," said Nadal after his win in Abu Dhabi.
Federer, who has come into the new year with a fresh mindset as he works with new coach Paul Annacone, is bidding for his third title in Doha after winning back-to-back trophies in 2005 and 2006.
"Rafael and myself must have played so many times and so many times it has come down to a few shots here and there. He is an amazing shot-maker. Me as well, but today he got the better of me," said Federer.
Federer appointed Annacone, who steered Pete Sampras to nine of his 14 Grand Slam titles, after losing his Wimbledon title, as he bids to regain the world number one ranking he once held for a record 237 consecutive weeks.
The next few days may offer insights into just how likely that is. Since Annacone's arrival there have been signs that Federer is working on countering fractional loss of speed as he moves through his 30th year.
He has been trying to reinvigorate his backhand, achieve a more consistent serve, produce crisper ground-strokes, and most crucially, generate an appetite for attacking opponents' second serves more forcefully.
How superb Federer becomes when he achieves all these things was illustrated by his meeting with Nadal at the ATP World Tour finals five weeks ago in London where he concluded the season with a 6-3 3-6 6-1 win.
"I think in the beginning he was unplayable," said Nadal. "He played unbelievable all week. When he's playing like this, it's very difficult to stop him."
Nadal is happy in returning to Doha, which he believes helped him turn a corner after he had gone without a title for 11 months last year.
"In Doha last year was probably one of the best sets of my career, the first set against (Nikolay) Davydenko," Nadal said, referring to an incredible final in which he took that set 6-0, held two match points, and still lost to the Russian.
"So the only thing I think is, be focused, don't lose this dynamic, don't lose that, because with that level I have chances to win in every tournament."
As for the pressure of being the hot favourite, Nadal said: "It doesn't make any difference if I have won three Grand Slams or if I won one or two. It's in the past.
"When I start the season, everything starts. I don't think if I have to defend 100,000 points or if I have to defend 1,000 points. In Australia or in Doha when I start the season, I have zero points. So we start from there."
The two legends met only twice last year, have not contested a Grand Slam final for two years, and have yet to meet in a Doha final. All this should add tension to the possibility of it happening on January 8.
However, world number three Davydenko beat both last year on his way to the title.
The Russian has struggled with a wrist injury last season and is now seeded only fourth, behind France's Jo-Wilfried Tsonga, who is making his debut in Doha, hoping to be fully fit after his 2010 campaign marred by a knee injury.
Follow Emirates 24|7 on Google News.