Nadal win may intensify 'all-time greatest' debate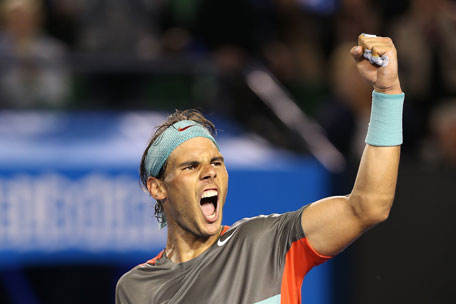 Rafa Nadal has the opportunity to add another chapter to his storied career, and intensify an already robust debate, should he beat Stanislas Wawrinka in Sunday's Australian Open final.

A victory would make the Spanish left-hander the third man to win all four Grand Slam titles twice, joining Australians Rod Laver and Roy Emerson, and also draw him level with Pete Sampras on 14 career Major titles.

It would also leave him three behind Wawrinka's compatriot Roger Federer, who Nadal beat in the semifinals, and would no doubt generate another round of debate as to who can justifiably be called the greatest player of all time.

"Is there one greatest player of all time?" Sampras replied when asked by reporters if Nadal or Federer could be labelled with that mantle.

"I believe when you look at the history of the game, each decade has their player.

"Certainly Roger has been the best player for the last 10 years. Rafa is up there with him. (Novak) Djokovic is pushing. So it's really hard to say.

"Rafa has won all the Majors, he's been number one. You could argue that he's well up there. If he plays the next four or five years, he could have 17, 18 Majors.

"Let's just appreciate what we're watching. It's hard to compare the numbers and the eras where we all did our thing."

Both sides have a strong case in the Nadal v Federer debate.

Fans of the Swiss suggest Nadal's record is skewed by his claycourt dominance over the years, while the Spaniard's supporters point to his 23-10 head-to-head record over Federer.

If Nadal does beat Wawrinka, however, it is inevitable the question will be asked whether he can achieve what no man has done since Laver in 1969 and win a calendar Grand Slam.

Few would bet against him winning his ninth French Open title in early June. He has lost just one match - to Robin Soderling in the fourth round in 2009 - at the claycourt Grand Slam since 2005.

And the manner in which he accounted for 17-times Grand Slam winner Federer, who had looked back to his fluid best at Melbourne Park after a dismal 2013, suggests he will be hard to beat at Wimbledon and the US Open.

Nadal, who has played the tournament with strapping across his left hand due to a painful blister, is only focused on the challenge posed by the 28-year-old Wawrinka.

"He's playing better than ever ... he's a player that is ready to win against everybody," Nadal said.

"If I don't play my best tennis ... I don't have (a) chance to beat him."

MAJOR CONCERN

Nadal holds a 12-0 career record over Wawrinka but he has every reason to be concerned about the challenge from the quietly spoken Swiss, who has found a new level of consistency and seems confident he can reach the upper echelon of the men's game.

He pushed Djokovic to five-sets in both the Australian and US Open last year - the latter was in his first Grand Slam semifinal - which capped off a year in which scored eight wins against top-10 opponents, the third-best total on the ATP Tour.

Wawrinka started 2014 by winning his fifth career title at Chennai and then beat world number two Djokovic, again in five sets, in the quarter-finals at Melbourne Park, ending a 14-match losing streak to the Serb.

He handily beat seventh Tomas Berdych in the semifinals.

"I saw him play against Novak. I saw him play against Berdych. He's playing great," Nadal said.

"He's serving unbelievable. He's hitting the ball very strong from the baseline.

"If I am not able to play my best, I think I will not have chances because he's coming to this match with a lot of victories and playing great."

Wawrinka said his past record against Nadal had not entered his thoughts and he was heading into his first Grand Slam final with a lot of confidence.

"The record is not what I'm looking (at). That's what is it against Rafa (and) I don't care about having lost 14 times.

"But I (had) some good match last year against him, close ones ... (and) I have more confidence in myself.

"I know that when I go on court I can beat almost everybody, even in the big stage."
Follow Emirates 24|7 on Google News.