Nalbandian fury over 'stupid' umpire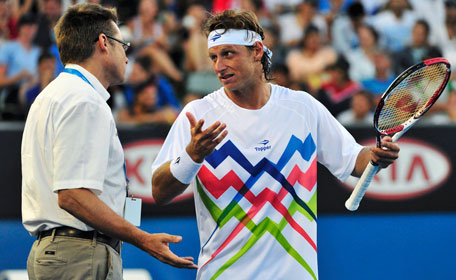 Argentina's David Nalbandian furiously lashed out at the "stupid" chair umpire on Wednesday after he was refused a key video challenge towards the end of his 4hr 41min marathon loss to John Isner.
Nalbandian said the official, Kader Nouni of France, was not capable of umpiring men's Grand Slam matches after making the contentious call late in the gripping five-setter, which ended 4-6, 6-3, 2-6, 7-6 (7/5), 10-8.
"I mean, it's ridiculous playing this kind of tournament with this kind of umpires. What is this? Why did the ATP do this?" Nalbandian fumed.
"I didn't understand in that situation, eight-all break point. I mean, can you be that stupid to do that in that moment?"
Holding a break point at 8-8 in the deciding set, Nalbandian, a former top-10 player and the 2002 Wimbledon runner-up, asked for a Hawk-Eye video review when the umpire overruled a fault call on Isner's serve.
But Nouni told him he was "too late" to request the challenge, according to Nalbandian, who argued with the umpire for several minutes and called the match supervisor on court.
However, Nalbandian was told Hawk-Eye was used at the umpire's discretion - and he lost the game, and was then broken, to end the 99-minute decider in acrimonious fashion.
"I mean, what do the umpires need, press? Name? Be (in the newspaper) tomorrow? Incredible," he said. "Anyway, I didn't lose for that, but that was a very bad situation. It was amazing."
Isner, who lost 9-7 in the fifth set to Marin Cilic on the same court at last year's Australian Open, said the chair umpire ruled that Nalbandian didn't issue his challenge in time.
"Obviously the ump didn't think he challenged in time, but maybe because of the crowd noise the ump couldn't hear it or what not," Isner said. "The break (in play) went in my favour for sure."
The controversy marred what had been an enthralling spectacle between two players with well-earned reputations for rollercoaster five-setters.
Isner, the American fifth seed, was involved in the longest match in Grand Slam history, a three-day blow-out at Wimbledon 2010 which he won 70-68 in the fifth set.
"I think I'll have a lot more in the tank on Friday than I did at Wimbledon," Isner said. "So I really don't anticipate fatigue being a factor in my next match. If I lose it's because I got outplayed."
Nalbandian, 30, has made gruelling five-set matches his trademark, and wore Australian battler Lleyton Hewitt down in a 4hr 48min epic at last year's Open - before retiring in his next match.
The Argentine added there was "no doubt" that Nouni was not up to umpiring a Grand Slam match, and he laughed when told the official usually works on the women's tour.
"They serve too slow for these kind of guys," he said.
Follow Emirates 24|7 on Google News.