New Wimbledon champion gets hero's welcome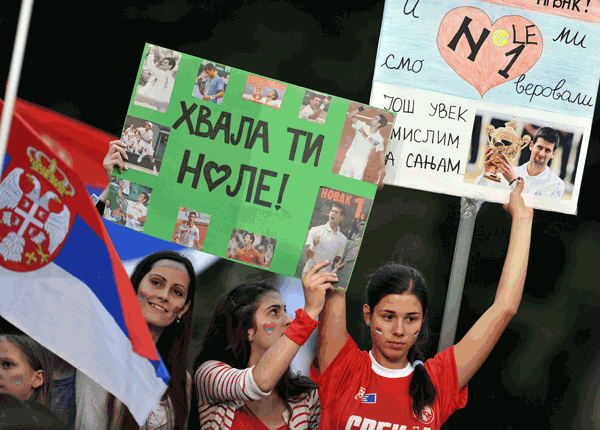 Tens of thousands of people gathered in front of the Serbian parliament in Belgrade on Monday to greet Novak Djokovic after he won his first Wimbledon crown and became the world's new number one.
Mostly young people filled Nikola Pasic Square, carring Serbian flags and placards reading "Nole we love you" and "Nole the king!," referring to Djokovic's nickname.
Private television channel B92 showed footage of an open-top bus with Djokovic and his team aboard on the way from Belgrade airport to the city centre.
The bus was forced to slow down as the highway was crowded by cars honking their horns while thousands of people cheered him along the way.
The double-decker, escorted by a dozen police vehicles, passed on its way through the main Terazije square amid a carnival atmosphere.
The culmination saw a thrilled and smiling Djokovic appear on a stage set in front of the parliament, carring the Wimbledon trophy, where the ecstatic crowd gave him a rapturous reception.
"He is the pride of Serbia and Serbian people," said a teenage girl, who came for the occasion from the town of Novi Sad, some 80 kilometres (50 miles) north of Belgrade.
"Lucky is the mother that gave birth to such a hard-working and gifted boy," said Milorad Veselinovic, a man in his fifties.
Djokovic's victory at Wimbledon and top position in the ATP list prompted euphoria in Serbia, where the 24-year-old is considered a national hero and an idol to many young people.
Djokovic snatched the men's crown from defending champion Rafael Nadal with a 6-4, 6-1, 1-6, 6-3 victory on Wimbledon's famous Centre Court.
Follow Emirates 24|7 on Google News.