Novak Djokovic to clash with Berdych in Dubai final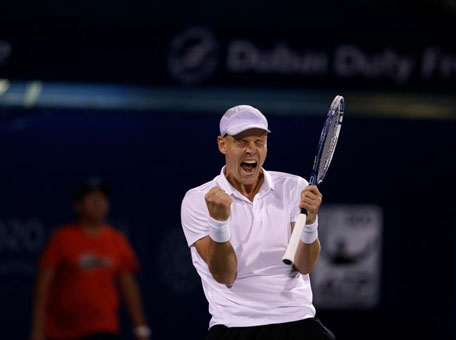 Top-seeded Novak Djokovic rallied past fourth-seeded Juan Martin del Potro 6-3, 7-6 (4) in the first semi-final to reach the DUbai Duty Free Tennis Championship.

The Serb swept through the first set before a tighter second that saw him recover an early break, only to fail on his first attempt to serve out the match.

"It's becoming a tradition in this tournament to drop a serve when I'm serving for a match. Well, hopefully it's not going to happen another time tomorrow," Djokovic said.

Djokovic held the edge in the first set, giving up only five points on serve and breaking to lead 4-2 in the 6th game when Del Potro made a forehand error.

There was a flurry of aces in the Centre Court from both the top players.

The Argentine, however, didn't give up easily breaking Djokovic's serve first up in the second set.

The match seemed to have taken a turn after a time violation warning by the chair umpire to Del Potro.

In the second set Del Potro took a 3-1 lead, serving at 30-40, only to loosen when he was warned for taking too long on his serve.

It sparked a flurry of boos in the packed stadium and a visibly angry del Potro lost his serve.

Del Potro said he lost his focus after the warning for the time violation. Djokovic took the next three straight games.

"I lost my calm when I started to discuss with the umpire, and (Djokovic) come back in the second so quick," del Potro said. "He's the No. 1. When he feels the chance to improve his game, he always takes it. Tonight, he played better all the time."

Djokovic agreed it was an unfair call because del Potro had not been privately warned beforehand, which often is the custom.

But with the Serb up 5-3 and serving for the match, del Potro broke a second time and made it 5-all.

Djokovic ultimately triumphed in the tie-break, his forehand winner the only point against serve.

This will be Djokovic's 55th career final and he will face Tomas Berdych.

Berdych saved three match points before upsetting defending champion Roger Federer 3-6, 7-6 (8), 6-4 to earn a spot in the final.

Berdych broke to go up 3-2 in the third set, only for Federer to save two match points before holding for 5-4. But the sixth-ranked Berdych finished it off when Federer hit a crosscourt forehand into the net.

Berdych, who also beat Federer in their last meeting at the US Open, is the first player from the Czech Republic to reach the final since Jiri Novak in 2003.

"I couldn't be better feeling than this one," said Berdych, "coming from court playing Roger I would say almost in front of his home crowd, I would say that, and to be the one who won that match. It really feels great. I'm very pleased the way I played today."

And previous experience of fighting back from match point down against Federer served him well.

"I already have some experience with him with some match points down, and then being able to turn the match the other way. In every single point I was believing in myself, trying to be just focused on that single point and not wanting to see the score and just going one by one."
Follow Emirates 24|7 on Google News.