Novak Djokovic wins his fourth Dubai Tennis title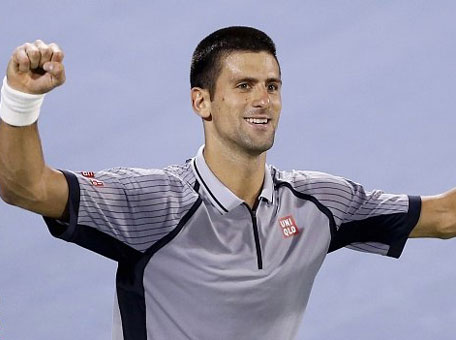 The Serbian world number one, Novak Djokovic, wins the Dubai Duty Free Tennis Championship defeating Tomas Berdych from Czech, 7-5 6-3.

Djokovic forced through any fight put up by Berbych to claim his fourth Dubai Championships title in five years.

The 25-year-old Djokovic was broken in the first set but recovered soon to break Berdych back. He made the crucial break to go up 5-3 in the highly contested second set before closing out the match.
"To be honest, I mean, I haven't played as aggressive and maybe as good as I have played in yesterday's match or previous matches during this week. But, you know, that's also because I had, you know, a toughest challenge, obviously. I had Tomas who was obviously aggressive from the start and feeling confident after a win against Roger," said Djokovic.

Berdych did give the initial scare and looked poised to cause an upset. He fired every ball on the other side of the net and Djokovic did not seem to have any response to it.

Talking about the first set Berdych said, "I was able to, you know, to play the rallies with him quite well, you know, especially from the baseline, and, you know, try to hold him under the pressure."

"He also make a couple of mistakes. So, yeah, I mean, the beginning was really good, and that's the way how to do it with him, but, you know, this is just really small step that, you know, was working for few games. Now the other one is try to be able to hold it for whole match."

The in-form Berdych broke early to go up 3-2 in the first set. But again Djokovic, known to up his game any moment, ran off three straight games to go up 5-4 - saving three break points in the ninth game.

With some un-forced errors and a double fault Berdych saw the set slip away.

In the second set Djokovic broke to go up 5-3, and saved a break point in the next game before clinching the victory with a forehand winner.

This win extended his winning streak to 18 matches. Djokovic is unbeaten since October and did not drop a set in Dubai.
"I have been enjoying my time always coming here with a big team, with family, friends. Everybody has been welcomed as they're, you know, here. This generosity of the people and from the organization is always remembered.

"So this is definitely one of my favorite tournaments throughout the year. And then again, winning it four times now out of what, six, maybe five, six participation, is something that I definitely enjoy."

The six-time Grand Slam champion has now won all 13 matches against top-10 opponents since Andy Murray defeated him in September's US Open final.
Follow Emirates 24|7 on Google News.