Pain makes me stronger, says Federer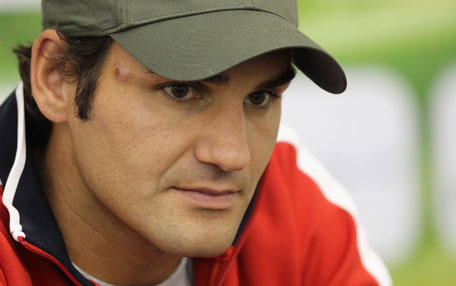 Grand Slam record-holder Roger Federer believes that his capacity for playing through pain is one of the reasons why he can challenge for the top titles again in 2012.
Speaking the day before starting the defence of his Qatar Open title, Federer cut an optimistic figure as he contemplated life on an increasingly taxing tour well into his 31st year.
"I'm happy to see I'm holding up well. You know, I definitely think that's a key to success, as much as playing well and being well prepared," Federer said.
"But also one looks at the big picture, longevity, not just thinking in the very moment.
"I didn't panic after some really tough losses through the summer.
"I was able to actually not only just maintain a good level of play but I almost increased it towards the end of the season," he added, referring to the sequence of 17 wins and three titles with which he ended last year.
"I never worry at moments like now that I won't hold up for the entire season, because I do, I think, plan decently and well, so I manage all the expectations for myself.
"Sometimes you just go through tougher moments.
"It's also part of a good player, being able to put that aside and still play good tennis. I promise you I had a lot of pain throughout my career, and I've managed to play with it."
Federer also made hopeful noises about being able to continue his unbeaten run, citing geography, conditions, and mindset as reasons why he can start the year well.
He felt that the distance from his last tournament, in London, was not that great, and that his confidence levels are high enough to adjust to the difference between playing indoors in Europe and outdoors here.
"It takes a little bit of adjustment, but you can definitely take confidence from the end of the year and just carry it over because you're in a good mindset," Federer said.
"You know, you just believe you're doing the right things in the court. You're not second guessing yourself.
"Confidence is a huge part of our life sometimes as a tennis player.
"I'm ready for a good season. I feel energised, ready to go. Even though the (2011) season was long and tough, I had a nice break and great preparation, and I'm really eager for another season, so that's good."
It is two years since Federer won a Grand Slam, which is feeding his hunger. So are his memories of how close he came to glory on a couple of occasions last year.
He beat Novak Djokovic, the standout player of 2011, before playing a fine four-set final with Rafa Nadal in the French Open in Paris in June, and held match points against Djokovic in the US Open semis in New York in September.
But Federer may need to be near his best on Tuesday.
"It couldn't have been more tough," he said of a first round draw against Nikolay Davydenko, the Russian who caused a sensation by beating him and Nadal to win the title two years ago.
"Even though I don't know the level of Nikolay at the moment, knowing the potential of him as a world class player for many years makes it difficult and dangerous," Federer added.
If Federer does win he could go on to a semifinal with Gael Monfils, the fourth seeded Frenchman whom he beat in the 2006 final here. He might then have a showdown with Nadal.
Two seeds came through in Federer's half on Monday.
Andreas Seppi, the eighth seeded Italian, dropped only five games in beating Lukasz Kubot of Poland, while Alex Bogomolov junior, the sixth seeded Russian, came from a set and a break down to beat another Italian, Filippo Volandri, 5-7, 6-4, 6-2.
Seppi could play Federer in the quarter-finals, while Bogomolov could play Jo-Wilfried Tsonga at the same stage.

Follow Emirates 24|7 on Google News.