Serena back home after blood clot treatment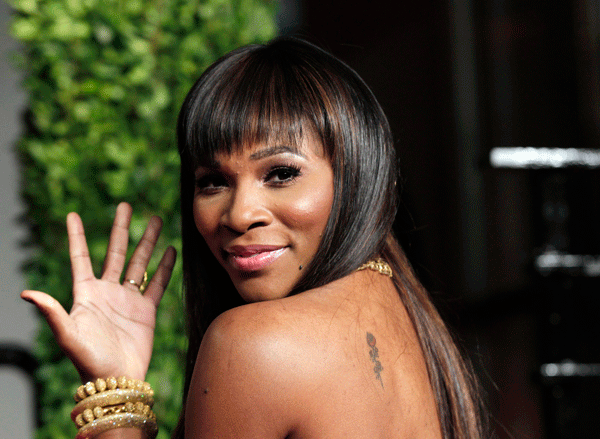 Serena Williams was recovering at her Los Angeles home after undergoing emergency treatment for a blood clot in one of her lungs, the former world number one confirmed on Wednesday.
"This has been extremely hard, scary, and disappointing," Williams said in a statement. "I am doing better, I'm at home now and working with my doctors to keep everything under control."
The 29-year-old Williams was photographed on Sunday at an Academy Awards party in Hollywood but fell ill the following day and was admitted to the Cedars-Sinai Medical Center in Los Angeles where she underwent surgery.
Doctors discovered the blood clot after Williams travelled to New York last week for a treatment on a foot injury that has sidelined her for eight months, according to her spokeswoman Nicole Chabot.
"Serena did indeed suffer from a pulmonary embolism last week and the hematoma was another unexpected scare," Chabot said. "Thankfully everything was caught in time. With continued doctor visits to monitor her situation, she is recuperating at home under strict medical supervision."
Williams has not played competitively since winning last year's Wimbledon championship. Shortly after the victory she cut her foot on broken glass at a restaurant in Germany.
The American has had two operations on her foot since then and was preparing to return to training soon in the hope of making a comeback in Miami later this month.
Williams has won 13 Grand Slam singles titles but has slipped from number one to 11th on the world rankings during her extended absence and now faces an uncertain future.
"I know I will be OK but am praying and hoping this will all be behind me soon," she said. "While I can't make any promises now on my return, I hope to be back by early summer. That said, my main goal is to make sure I get there safely."
Belgium's Kim Clijsters, the new world number one, posted a message of support to Williams on her Twitter account shortly after landing at a New Jersey airport with her daughter Jada. "Just read about Serena!!!! Very scary, hope she is ok!fingers crossed!" she tweeted.
Embolisms, often caused when blood clots form in the legs or arm then travel towards the leg and hearts, are usually treated by blood thinners.
"Athletes travel a lot. Air travel and prolonged sitting in one spot can lead to blood clots," said Dr Mark Adelman, director of Vascular Surgery and member of the Cardiac & Vascular Institute at NYU Langone Medical Center.
"If a person has a pulmonary embolism they would need to be on an anti-coagulant like Coumadin for six to 12 months.
"They would be able to play sports and be back on the court with an anti-coagulant. If the clot comes back the patient may need an implanted filter device to catch future blood clots."
Follow Emirates 24|7 on Google News.