Serena breezes through in late-night win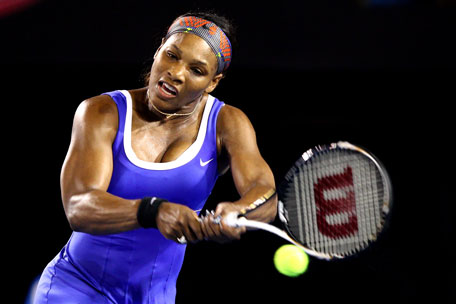 Five-time champion Serena Williams moved into the second round of the Australian Open in the early hours of Wednesday morning with a 6-3, 6-2 win over Austria's Tamira Paszek.
In a match that didn't start until 11:30 pm on Tuesday, following Lleyton Hewitt's four-hour win over German Cedrik-Marcel Stebe, the 12th-seeded Williams overcame a tenacious Paszek in one hour and 20 minutes.
The 13-time Grand Slam winner has now won 15 consecutive matches at Melbourne Park following her title wins in 2009 and 2010.
She missed the 2011 Open with injury and appeared in doubt for this year's tournament after injuring her ankle in Brisbane two weeks ago.
Williams moved well throughout the match and did not appeared hampered by the injury. But the late hour seemed to affect the 30-year-old American, who struggled to subdue the challenge from the unheralded Paszek.
"I think I was a wee bit tight out there today. I always get a little nervous in my first round matches," she said.
"Physically I felt fine. I was definitely moving better than I suspected. I still think I can move better, though, and just get that confidence. It would be great."
Williams, who has never lost in the first round in her 46 Grand Slams, appeared frustrated at times as she alternated between making scintillating winners and simple errors.
While smashing 34 winners past the Austrian, she also made 26 unforced errors to keep Paszek in touch.
But although Paszek fought hard throughout, the power of Williams proved decisive and the American finished strongly to move into a second round clash against Czech Barbora Zahlavova Strycova.
Follow Emirates 24|7 on Google News.