Serena out of Indian Wells after 'careful consideration'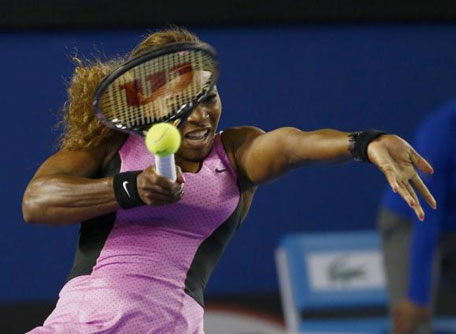 Hopes that Serena Williams would end a 13-year boycott of the BNP Paribas Open at Indian Wells were dashed on Friday when the world number one said she would not be competing in the event "after careful consideration".

Williams and older sister Venus have never returned to the tournament in the California desert after being jeered by spectators in a controversial final in 2001 but Serena had hinted at last month's Australian Open she might lift the boycott.

Serena had been listed among the entries for this year's edition but on Friday said in a statement: "After careful consideration, I will not return to the Indian Wells BNP Paribas Open this year.

"I send my best wishes to everyone involved with the tournament."

Tournament director Steve Simon said: "We wish her the very best of luck in the year ahead and hope that she will decide to play here next year."

Williams, who suffered a shock fourth round loss to Ana Ivanovic at the Australian Open, had raised the possibility of lifting her boycott of Indian Wells after being inspired by a movie about Nelson Mandela.

"It actually crossed my mind a couple days ago, or after I saw the movie," the 32-year-old American told reporters at Melbourne Park. "I thought about it (playing in Indian Wells)... Right now I don't know.

"I just have to focus on this tournament. But I think Mandela was a really amazing man. I felt really honoured to have a chance to meet him, get to know him a little bit, and get to know his story a little better."

SPECTATOR DISPLEASURE

"Mandela: Long Walk to Freedom", a movie about the anti-apartheid hero, opened just days before his death at the age of 95 in December.

Serena and her sister had been scheduled to play each other in the semi-finals at Indian Wells in 2001 but Venus pulled out minutes before the match, citing injury.

Spectators vented their displeasure with the late withdrawal during the final, booing Serena in her match against Belgian Kim Clijsters and also jeering her sister and father Richard Williams when the pair arrived to watch the match.

Richard Williams alleged he had heard racist taunts from the crowd and the family have not returned to Indian Wells since.

The women's entry list for the March 3-16 Indian Wells event includes all of the top-10 ranked players apart from Serena, among them Victoria Azarenka and defending champion Maria Sharapova.

The men's entry list for the elite ATP Masters 1000 event includes defending champion Rafa Nadal, Novak Djokovic, Andy Murray, Roger Federer and the rest of the top-10 ranked players.
Follow Emirates 24|7 on Google News.