Sharapova aims to bounce back in Dubai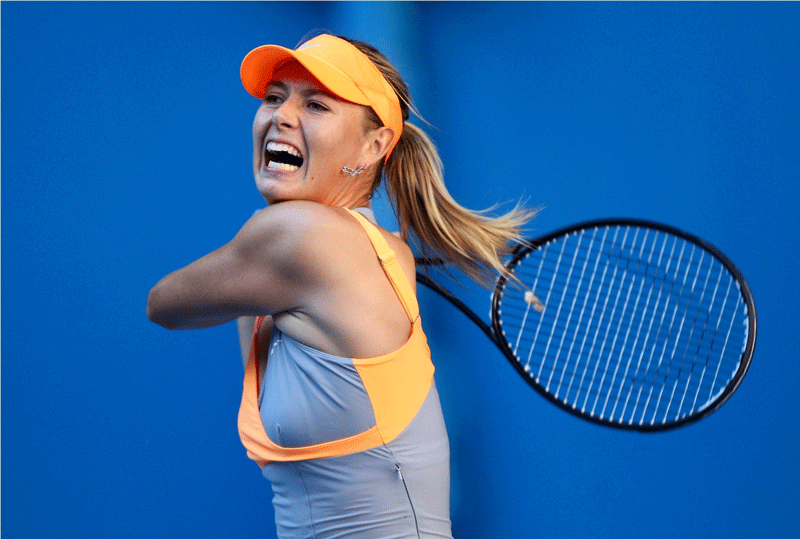 Tennis superstar Maria Sharapova is hoping that her week at the Dubai Duty Free Tennis Championships will provide the springboard to set her firmly back on the road to the top of the game.
Colm McLoughlin, Managing Director of tournament owners and organisers Dubai Duty Free is looking forward to welcoming Sharapova back to Dubai after a lengthy absence from the tournament.
"Maria is one of the true champions of the game and is highly sought after by every tournament in the world" stated McLoughlin. "We are thrilled that she is now free of her injury troubles and is able to join us once again at the Dubai Duty Free Tennis Championships," he added.
The glamorous Russian has struggled to recapture the form that took her to number one in the world and three Grand Slam titles, after a serious shoulder injury took her off the WTA tour for nine frustrating months and dropped her out of the world's top 100. But although she has struggled since returning to the game she is happy to be playing at all.
"My body feels the best it has in a long time and I am confident that my results will keep improving. I am playing Fed Cup and then Paris before coming to Dubai, so I have a nice schedule coming up," said Sharapova.
Last season was a successful one for the world's highest earning woman athlete, as she won titles in Memphis and Strasbourg and reached the final of three further events in Birmingham, Stanford and Cincinnati. Now she is ready to take a further step back to where she knows she belongs.
"My ambitions are still very much there. I've been a competitive girl ever since I was pretty much born. I love the sport. Whether it's a loss or a win, I try to move on from that and build on it," she said.
As for Sharapova's thoughts on Dubai, the Russian star reckoned: "I am looking forward to playing in Dubai again. It is such a great city and I have some really good memories from playing there.
"I remember many years ago doing a shoot at an indoor skiing facility. That was really cool. I think it was the first indoor skiing place in the world. I loved it.
"I have never had the chance to visit Dubai just for fun unfortunately, as we have such busy schedules during the season, but after my career it will definitely be on my list," she added.
Sharapova will face the strongest possible challenge as she seeks to go one stage further than she did on her previous trip to Dubai in 2006, when she defeated Martina Hingis and Lindsay Davenport before falling in the final to Justine Henin.
She joins a field that includes an incredible eight of the world's top 10 players, including number one Caroline Wozniacki, French Open winner Francesca Schiavone, Australian Open finalist Li Na, Russian number one Vera Zvonareva and top Australian Samantha Stosur.
"Dubai has a long history having all the top players, so I am not surprised that they have another great field," she said.
Tickets to see Sharapova in action are still available through www.timeouttickets.com and at the Dubai Tennis Stadium box office. And fans will have plenty to look forward to.
"I think my fans will see very much the same Maria, someone who is going to fight for every point and have a nice Nike outfit on," said the popular Russian.
The Dubai Duty Free Tennis Championships is held under the patronage of His Higness Sheikh Mohammed bin Rashid Al Maktoum, Vice-President and Prime Minister of the UAE and Ruler of Dubai. Play begins on February 14 with the WTA Tour event and continues with the ATP tournament from February 21 that includes Australian Open and reigning Dubai champion Novak Djokovic, four-time Dubai winner Roger Federer and Australian Open finalist Andy Murray.
For further information about the tournament, visit www.dubaidutyfreetennischampionships.com or phone the call centre on +971 4 358 9797.
Follow Emirates 24|7 on Google News.