Shy Sharapova loves karaoke, art and architecture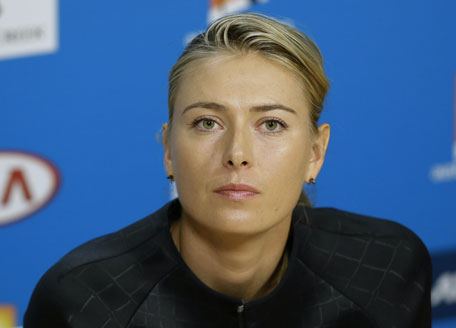 Despite being the highest paid sportswoman on the planet and one of tennis' most recognisable faces, Maria Sharapova insists she is shy and doesn't need expensive things to make her happy.

But the massively wealthy world number two, who has topped the Forbes list of richest women athletes for 10 years, also confesses to loving art and architecture. She also enjoys karaoke, belting out Cher hits.

"I'm quite shy, actually, in the beginning," the US-based Russian told The Age newspaper in Melbourne as she prepares to launch her Australian Open campaign.

"I'm quite an easy person. I don't need a lot of big or expensive things to make me happy."
Despite having homes in Florida and California, where the paparazzi thrive, and being the face of everything from German cars to French mineral water, the 27-year-old said she is able to live a relatively obscure life.

For this, she is grateful.

"No matter what people define me as, and say that I am quite well-known, I'm able to live a very normal, easy life," said Sharapova, whose partner is world number 11 Grigor Dimitrov.

"I'm lucky enough not to have a lot of cameras following me around.

"I live in a country where I think actors and musicians are a little bit more of a bigger deal than maybe athletes are -- which I'm very thankful for.

"At the end of the day I can wake up and not feel like I have to put on red lipstick. I don't know if I'd ever be able to manage that!

"I just want to go get my cup of coffee and I'm able to do it. I mean, I don't wear pyjamas (out), but I don't have to, like, have the full gear on."

Art and architecture

While tennis remains her number one passion and what drives her -- she is determined to unseat arch-rival Serena Williams as world number one -- Sharapova is a keen art and architecture fan.

Her Manhattan Beach home is a private gallery, Fairfax said, with the Russian nominating her Californian friend Chris Gwaltney and edgy Briton Tracey Emin as her favourite artists.

"I love architecture and modern art, so I actually enjoy building projects and looking at beautiful pieces and adding them to my collection," she said.

"I have a lot of beautiful white walls and concrete walls, and I love different textures and, I don't know, I like looking at something that just puts a smile on your face, makes you happy.

"People think 'oh that's so strange' and don't really understand, but that's what art is about, I guess.

"I really love art. Every time I go to a city I always try to find my way to the cool galleries."

The savvy five-time Grand Slam champion can afford the best on offer, having become a major force in the business world.

On top of her numerous sponsorships, she has a Nike apparel line called the Maria Sharapova Collection that is worn by a number of other players.

Sharapova is also owner of Supergoop, a premium brand of sunscreen, and Sugarpova, a candy line now sold in more than 20 global markets.

While the glamorous player has the world at her feet, she also enjoys simple pleasures, like singing karaoke.

"My voice is not that bad, actually! I love singing Cher," she said.

"I know it sounds crazy, but I have quite a good time singing Cher."
Follow Emirates 24|7 on Google News.