Tennis: Age no barrier for 30-plus aces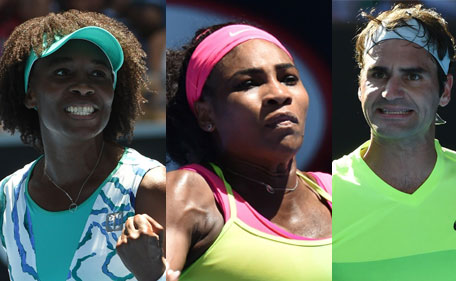 The Williams sisters and Roger Federer are proof that being on the wrong side of 30 is no barrier to success on the tennis court, but they have had to adjust to stay on top.

More than 40 players at this year's Australian Open are over 30, with Japan's remarkable Kimiko Date-Krumm the oldest at 44, playing her first Grand Slam in 1989.

Others still going strong include Francesa Schiavone, Vera Zvonareva, Daniela Hantuchova and Zheng Jie.
Roger Federer (AFP)

Among the men, world number two Federer at 33 has shown time and again that remaining at the pinnacle in your tennis twilight years is possible.

David Ferrer, Ivo Karlovic, Mikhail Youzhny and Lleyton Hewitt are all into their thirties and still earning a living from the game they love.

Two of the longest-serving members of the tour are the Williams sisters, with Venus making her debut in 1995 and Serena in 1997. Both are still in the fray at ages 34 and 33 respectively.
Serena Williams (AFP)

Serena remains world number one, proving that age really is no barrier.

"When you walk on that court, there is no such thing as age, height, any of that stuff," said Venus after winning her third round match on Saturday.

"It's really an even playing field. It's a matter of can you get the ball in? Can you win the point or not.

"It doesn't matter any of these variables. That's what they are: Variables. I don't think that (age) enters our mind out there."

The stats back this up with 14 WTA titles last year claimed by those in the 30s, led by Serena Williams but also including Venus, Pennetta, Sam Stosur and the now-retired Li Na.

Thirteen of the men's titles won last year were by over 30s.

Perhaps the greatest player of all time, Federer feels he has more success in him despite a shock exit in the Australian Open third round on Friday, insisting: "I don't feel any different to let's say four years ago."

"You maybe pay attention a bit more and listen to the signs of your body a bit more," he said ahead of his exit.

"By now I know my body even better. Clearly as the years go by I guess you also want to try out new things. But that's not really necessarily always down to age.

"Actually it was just to make it different, make it fresh, make it new, try something else.

"I think the mind also becomes important. How badly do you want to be out there? How badly do you want to play and win? Why are you still doing it? Are you doing it for the right reasons?

"I think that becomes, in my opinion, more important than the whole body talk that everybody puts emphasis on."

Desire to win
Venus Williams

Venus agrees that as a player gets older the mental side becomes more important, with out-thinking an opponent becoming a key part of her game.

"Honestly, I think I understand the game a lot more," she said of getting older.

"Even when I'm not playing as well, I think I'm able tactically to be more strategic than even, let's say, Venus of 2000.

"So I think strategically it's more helpful, even if I am not on top of my game.

"I understand things a lot more. So that's one of the beauties of continuing to play as you get a lot of the years under your belt."

Former US Open champion Stosur is now 31 and said as long as the desire to win was there, age didn't matter.

"Recovery is a lot more important now. Earlier you could get away with not doing so much but when you hit 30 you have to be a bit smarter," she told The Australian newspaper.

"There's also no age barrier to being a great competitor. You can have a 19-year-old against a 30-year-old and they both want it just as much. If your body is good you can absolutely compete no matter what age."


Follow Emirates 24|7 on Google News.