Tennis star Kyrgios could make top five by year's end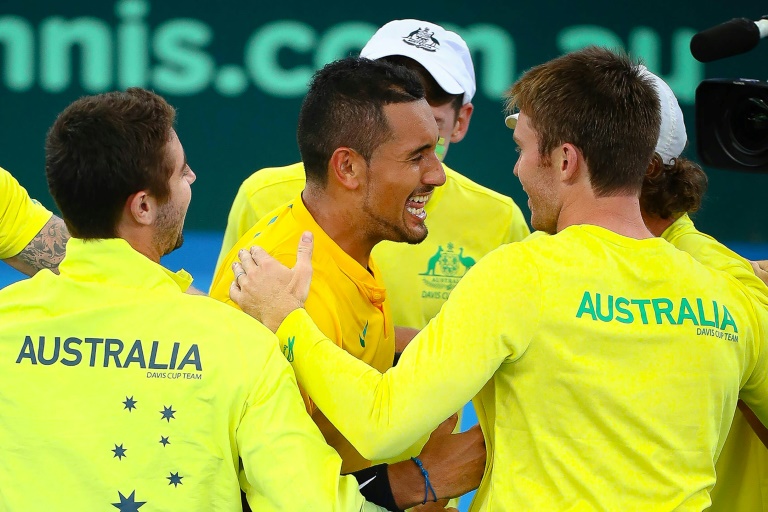 Australia's mercurial tennis star Nick Kyrgios can reach the world's top five this year if he remains focused, American Davis Cup captain Jim Courier said.
Kyrgios was the difference as Australia battled into the semi-finals of the world teams competition, winning both his singles in straight sets in a 3-2 victory over the United States in Brisbane at the weekend.
A polarising figure with his on-court antics and maverick attitude, he showed great character to fight his way from breaks down to beat John Isner and Sam Querrey.
Courier was impressed enough with the 21-year-old to predict he could improve on his current 15 ranking to top five.
"It's all in his hands when he's engaged, focused and concentrating and resilient. He was down a break in three different sets and found a way to win," Courier told reporters after Sunday's tie.
"That's a player who can and should be top five by the end of the year if he carries that through and he's lucky with good health. It will be exciting to watch, it always is with him one way or the other."
Four-time Grand Slam champion Courier said he has been closely tracking the rise of Kyrgios.
"I wouldn't call it scary, I would call it an excellent prospect for tennis," he said.
"When you see players with so much skill and charisma starting to put it together, it's exciting for everyone involved in tennis.
"Maybe not for the guys in the locker room who have to play against him, but for everyone else involved in the sport."
Kyrgios was embraced by his teammates after winning all six sets of tennis in his two matches and said he has become "a bit more of a professional and it's showing".
"It's a relief to actually deliver. The last two months have taken a lot out of me," said the Australian, who has made the final four in three of his last four tournaments.
"I'm in a happier place, I'm going out and playing the game as it's meant to be played. I'm not going back to the hotel hating the game."
His next tournament is in Monte Carlo next week.
Follow Emirates 24|7 on Google News.